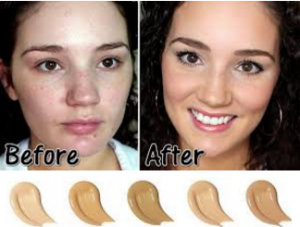 It is desired by every woman that she has flawless, healthy and refreshing face for her doll up look. This desire has been fulfill by magical Cosmetic product that is Foundation. Foundation is available in skin colors according to the skin complexions, from light to dark skin tones. Foundation is basically a base that can cover all the spots and uneven tones of the face and give the clean and clear look. Foundations generally have the sunscreen agent, moisturizers and astringents. The Foundation's color for your complexion is identifies by letter, number or name because shades varied with the brands as the one brand's beige color can be differs from the other brand's beige, as every brands has different formula. It is the difficult job to select the right foundation for your skin tone. For the correct selection of foundation this article will help you.
Right type of foundation for your skin type
Foundation comes in different form such as, stick, cream, liquid and powder. To choose right formula of foundation you should check out your skin type. Which type of skin you have? Too dry, or too oily, or the normal skin?
If you fall in the dry skin type category, you must go with the liquid, stick or aqua powder Foundation. As Moisturizing is very important for dry skin so these types of foundation suits you better as its formula includes the moisturizing consistency that deliver the moisture content to the skin. You can find best brands of these types of Foundation from Amazon online Shopping in Pakistan.
If you fall in the oily skin category, you must go with the powder or oil free liquid powder. These types of Foundations contain the tiny particles of powder which absorb the oil from face and give the smooth and matte finish look. If your makeup foundation breaks and give the cracks in foundation due to oiling generated from skin pores then you should use the foundation with the salicylic acid content. This ingredient dries up the gland that produces the oil and inhibits the pimples to burst put on face.
If you fall in the normal type of skin that is the combination of oily and dry skin, then you must go with the powder foundation. Powder Foundation cannot give the line on face which could be given by other type of foundation while giving the oil absorbing particles that may absorb the sweating.
If you are beginner, starts with Powder Foundation as it is easy to apply and give the clear natural look. If you have the dry skin then you must try Cream Foundation in a compact. As the cream Foundation is solid compact so it is applied with sponge that is easy to control. Cream Foundation will melt into your skin and give the liquid foundation result
Right Foundation for Your skin tone
In the language of cosmetics, skin tones are divided into 3 categories; Red Tone, Orange tone and yellow tone. Fair skin tone with pink undertone is referred as Red tone. The combination of red and yellow tone is referred as Orange skin tone. The not so yellow but pale tone is referred as the yellow tone. Women often do not know about their correct skin tone and they usually bought wrong foundation for them, wither it is too dark or too light. It is should be defined that they have warm skin tone or cool skin tone. Warm tone has yellow undertone and cool under tone has pink undertone.
For selecting right shade of foundation, choose 3 shades that are for your type of skin tone. Yellow shade of Foundation suit on all skin tones and give natural look. Fair skin tone or cool skin tone should choose the slightly pink shade of foundation as yellow shade will make the skin pale. For testing, apply small amount of foundation on jaw line and blend it well, if it does not give the fake look then this shade is for your skin tone. You can select and buy your branded and foundation from Amazon online Shopping in Pakistan.
Top Brands of Face Foundation:
All the featured brands of all type of foundations are available in Pakistan from Amazon online shopping. Buy face foundation cosmetic according to your skin type and tone from here and enjoy the Best experience of online shopping in Pakistan.