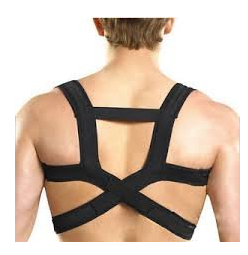 These Posture braces may be called Back Braces or clavicle braces used to help shoulder slump and poor posture via upper body support available in different sizes, designs and colors. When it comes to the size of Posture-Support Back Brace it is in small, medium, large and extra-large size and another one is "fits to all" that is standard for all.
These Posture-Support Back Brace are available in accordance to gender and also for unisex. You can explore and find out these Posture-Support Back Braceaccording to categories such as; Braces, Splints & Supports, Back, Neck & Shoulder Supports, Back Braces and more so that you can find out the right one for you. You can also have approach to them according to featured brands like; Duro-Med, StabilityAce, Comfy Med, BraceUP, Estwarkim, Pedifix, Dr. Wilson's Dr. and many others.
You can explore and find out from exclusive collection of imported quality Posture-Support Back Brace from our online store like;Chest Brace Up Prevent Humpback Correct Posture Corset, PediFix Visco-GEL Heel-So-Smooth Heel Sleeves, Verti Back – Posture Correcting Harness, Presadee® Women's Hunchback Posture Shape Corrector, ®BeFit24 – (Size 2) Posture Corrector for Women,Pregnancy Back Support and Maternity Belt (Regular) and Medline 4-Panel Abdominal Binders, Large/X-Large and much more.
You can do online shopping of high quality imported Posture Support Back Braces from shoppingbag.pk. Just check the following links to find long list of Posture Support Back Braces we can import from Amazon for you.