Cake decoration is an art that turns your simple sponge cake to visually interesting, appealing, decorative, and mouth-watering cake. Cake decoration needs several techniques, tips, practice and tools. Large inventory of cake decorating supplies in Pakistan will be overwhelming for a beginner so we have shortened the essential tools and equipment for cake decorations. Either you are searching the fondant cake decorating tool or cream cake decorating tool, you will find then from Amazon cake decorating supplies via online shopping in Pakistan. You don't need to surprise and daunt by viewing the complex decorations on cakes as we will guide you in this article about cake frosting and the best cake decorating supplies. We have spruced must needed cake decoration tools for your guidance.
Cake Icing Tips or Decorating Nozzles:
For decorating the cake with cream, frosting cream is not just enough. If you want to ornament the cake with cream flowers, leaves or with any other cream frosting design, then you just need the perfect cake icing nozzles. Cake decorating nozzles are the ultimate cake decorating kits as it has all essential decorating tools in it. You can find stainless steel round nozzles, plain nozzles, rose petal nozzles, leaf nozzles, and special nozzles with pipping bag or silicone pastry bag. The best cake decorating tips are available for you at reasonable price via Amazon imported cake decorating supplies online shopping in Pakistan. Bestselling cake decorating kits are: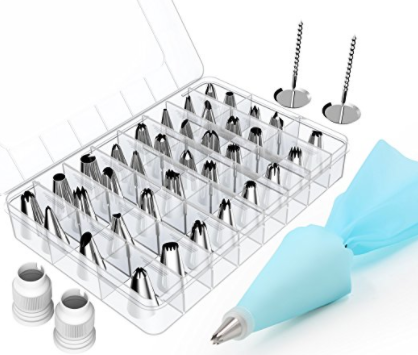 TableTops Cake Decorating tips are the professional icing nozzles that come in a comprehensive box. Variety of frosting designs can be created with these durable, stainless steel, safe and easy to use cake decoration nozzles. Search them in the collection of Amazon cake decorating supplies in Pakistan and buy imported quality decorating supplies at the best prices.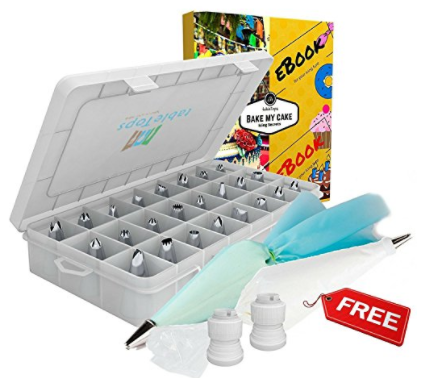 Braviloni Russian Piping Tips are latest and modified designed piping tips. Now you can make your cake look like the appetizing cake which you saw at Instagram. Through these tips, you can make mini flowers, grass, leaves, or many other complex ornaments on your little cake or pastry.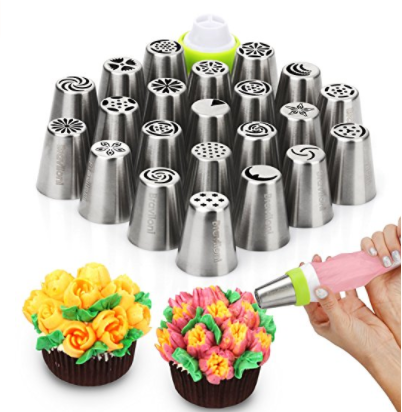 Fondant decorating kits:
Fondants decorations are a new addition to this art of cake decoration. You can create any shape, design, ornament, and image with icing fondant dough. To create anything with fondant, you need fondant cutters, fondant roller, engraving pen, fondant smoother and fondant detailing tools. You can find complete and ultimate set of fondant decorating kits in Pakistan at reasonable price via Amazon imported cake decorating supplies online shopping in Pakistan. The bestselling fondant cake decorating kits in Pakistan are:
Marrywindix Fondant Cake Decoration Tool set has 68 pieces of modeling, cutting, detailing and settle tools for fondants through which you can create enticing and unique design cake at your home. It is preferred and used by professional cake decorators. Safe and high quality stencils and cutters help the beginner in decorating their cakes in unique designs with an ease.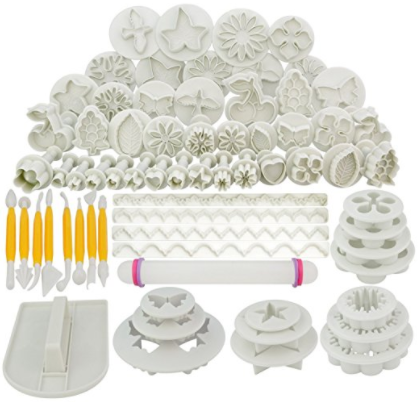 Cake Boss Decorating Fondant Imprint Mat Set has 4 elegant styles mats such as square, quilted and diamond shaped which can create more details and give finishing touch. You can create the engraved detailing by imprinting or stamping this mat on your fondant dough. These imprinting mats for fondants are safe to use.
HOSL Cake fondant decorating kit has modelling and detailing cutters for fondant flower and design making. you can also find all the fondant decorating essential tools in this ultimate cake decorating set in Pakistan. It is the best cake decorating kit that you need for your cake sugar crafting.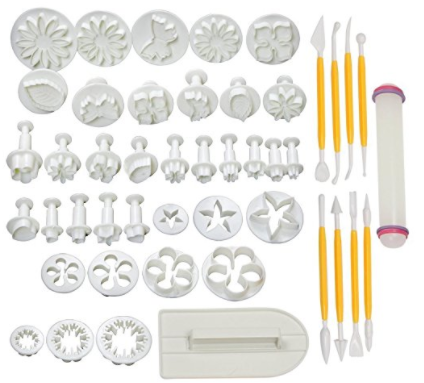 Cake turntables:
You can decorate the cake with an ease when your cake is placed on a rotating platform, cake turntable. You can spin it right or left and you can lock it at one place for concentrated detailing. From Amazon cake decorating supplies online shopping in Pakistan, you can find the set of turntable, angles icing spatula, sided icing spatula and cake frosting smoothers at reasonable price. You cannot easily decorate your cake without these essential cake decorating supplies online in Pakistan. The bestselling cake turntables are:
ThsindeCake Decorating Turntable are available with essential cake decorating tools such as sided and angled spatula and 3 types of smoothers. You will get non messy, clean, easy, smooth and amazing experience of cake decorating.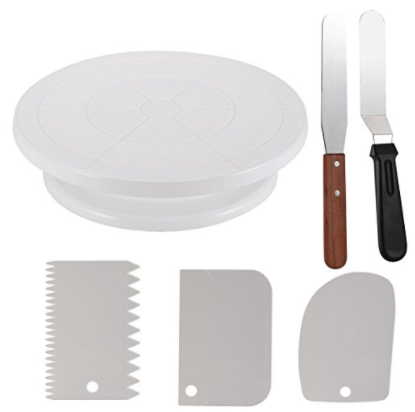 Kootek Cake Turntable with spatula and icing smoother are made from premium quality aluminum alloy. It can give smooth spin to your cake while you are decorating your cake to give finest finishing. It has non slipping platform and rubber base for better and quality experience.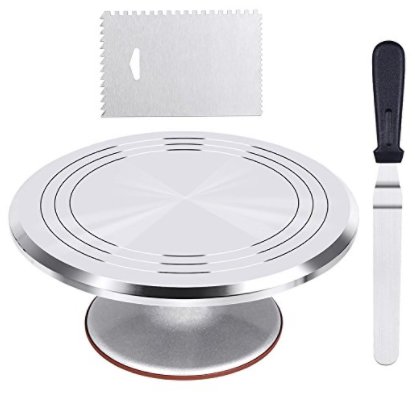 Wilton Tilt-N-Turn Cake Turntable ensures the non-slip feature of cake stand. You can tilt, turn, spin and decorate your cake without nay worry about cake slip due to slanting position. Add more cake decorating details with an ease and have the delight of online Amazon cake decorating supplies shopping in Pakistan.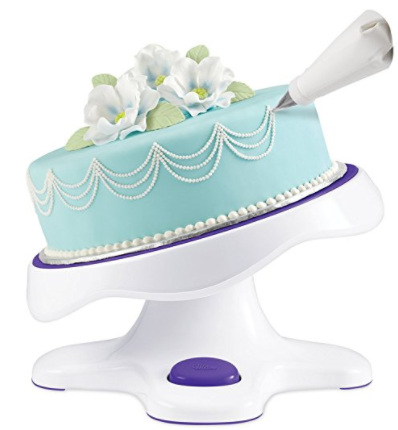 BuyCake Decorating Supplies Online in Pakistan:
There are more small but essential cake decorating tools which help you in frosting your cake in a professional way. Some of the most important equipment and tools are airbrush cake decorating sets, Icing Spatula, Cake Professional modeling kit, cake leveler, Cake lifter, desert decorator, disposable piping bag or icing bag, Parchment paper, Cake board, and much more. The Best quality cake decorating tools are available through Amazon quality cake decorating supplies online shopping in Pakistan. You just have to pick your required decorating set or kit for your cake decoration and place your order at there. You will get the ordered Amazon product at your doorstep anywhere with the best experience of cake decorating supplies online shopping in Pakistan with cash on delivery facility.