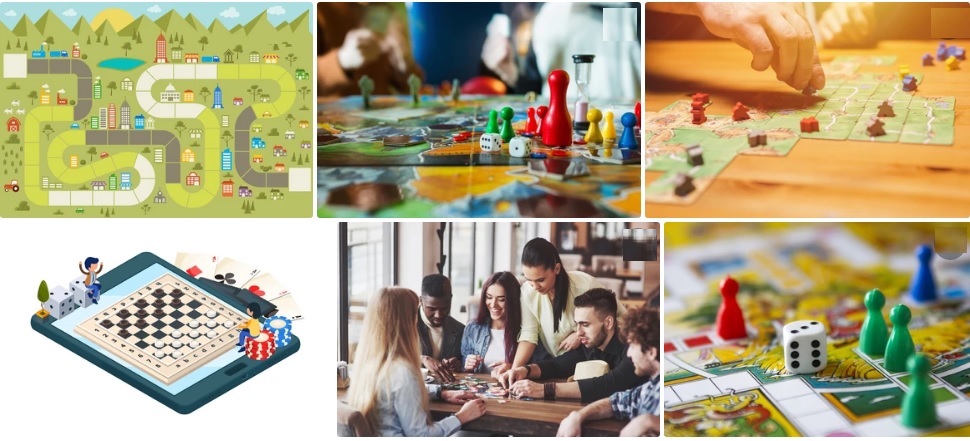 Switching off the video games and setting up the best board games for the family night would be fun, guaranteed. As an adult, we all have beautiful childhood memories of playing the best fun board games with friends, siblings, and cousins. Even we would love to enjoy those moments again if we get the time to play those games. However, most kids from the recent generation do not experience the fun yet because they prefer playing online games. Moreover, the variety of the Best Board Games in Pakistan becomes overwhelming, so it seems hard to pick the entertaining one. Therefore, we come to guide you comprehensively regarding Amazon board games online shopping in Pakistan. Before buying and playing those games, you should also know the advantages and disadvantages of board games. It is important because everything has benefits and drawbacks in different circumstances.
Wingspan Board Game – A Bird-Collection, Engine-Building STONEMAIER Game for 1-5 Players, Ages 14+
Red Raven Games Sleeping Gods
Catan Board Game (Base Game) | Family Board Game | Board Game for Adults and Family | Adventure Board Game | Ages 10+ | for 3 to 4 Players | Average Playtime 60 Minutes | Made by Catan Studio
Azul Board Game | Strategy Board Game | Mosaic Tile Placement Game | Family Board Game for Adults and Kids | Ages 8 and up | 2 to 4 Players | Average Playtime 30-45 Minutes | Made by Next Move Games
5-Minute Dungeon by Wiggles 3D | A Chaotic, Co-Operative, Real-time Card Game | Fast-Paced Board Game | for Families, Ages 8 & up | 2-5 Players
MONOPOLY Game, Family Board Game for 2 to 6 Players, Board Game for Kids Ages 8 and Up, Includes Fan Vote Community Chest Cards
Descent Legends of The Dark Board Game | RPG Board Game | Cooperative Board Game | Strategy Board Game | Ages 14 and up | 1 to 4 Players | Average Playtime 3-4 Hours | Made by Fantasy Flight Games
Hasbro Gaming CONNECT 4 – Classic four in a row game – Board Games and Toys for Kids, boys, girls – Ages 6+
Sorry! Game
Nemesis Board Game | Sci-Fi Horror Game | Miniatures Game | Strategy Game | Cooperative Adventure Game for Adults and Teens | Ages 14+ | 1 – 5 Players | Average Playtime 1-2 Hours | Made by Rebel
Plunder | Family Board Games | Board Games for Adults and Kids | Strategy Board Games | Fun Family Game Night | Ages 10 and Up | 2 to 6 Players | A Pirate's Life | Made by Lost Boy Entertainment
What Next? Cooperative Pick Your Path Adventure Board Game
Twilight Imperium 4th Edition Board Game | Strategy Board Game for Adults and Teens | Adventure Game | Ages 14 and up | 3-6 Players | Average Playtime 4-8 Hours | Made by Fantasy Flight Games
Clue Game
Stonemaier Games Viticulture Essential Edition Board Game
Hasbro Gaming The Game of Life Game, Family Board Game for 2-4 Players, Indoor Game for Kids Ages 8 and Up, Pegs Come in 6 Colors
BLANK SLATE™ – The Game Where Great Minds Think Alike | Fun Family Friendly Word Association Party Game
Yahtzee
Hasbro Risk Game
Classic Operation Game
Benefits of Playing Board Games with Family
Board and card games provide an opportunity to have fun while learning new things during interesting and exciting games. If you did not introduce these games to your kids, you will definitely introduce them after reading the benefits of playing board games essay.
1. Promote family time:
Kids love to spend quality time with parents, and these games are the most beneficial option. It offers the opportunity for kids and parents both to enjoy the company of each other while learning new things through the game. According to research, physical proximity through the in-house game can bring kids emotionally closer to their parents. Therefore, it would be the best decision to invest in the best Amazon board games online shopping in Pakistan.
2. Improve communication skills:
As the best modern board games require 2 and above players, they bring the best opportunity to improve kids' communication skills. It is the social benefit of board games because you will find your child become talkative while playing the game even if he is an introvert. Moreover, it will also improve their self-esteem and confidence. 
3. Enhance Math skills:
Many board and card games require a lot of mathematical steps, such as counting, addition, multiplication, subtraction, etc. For example, players need to keep the track of their money in Monopoly. Therefore, kids gradually learn these math skills and become proficient in calculating odds and points.
4. Improve cognitive skills:
Playing board and card games is the most fun exercise for the kids brain. They stimulate the brain power for memory formation, decision making, strategy building, and other complex processes. Kids gradually learn and practice these cognitive skills in different to solve problems and win the game.
5. Create Happiness and Reduce Stress:
Do you know playing board and card game reduce stress and create happiness? These are the psychological benefits of playing board games that make them beneficial for all age groups. According to studies, these types of games induce happy hormones in the body that make players feel cheerful and compassionate. It also helps improve the conscious and unconscious mind power.
6. Support early brain development:
When you choose the right board or card game for kids as per their age, it can benefit kids' brain development. The benefits of board games in early childhood include developing and supporting visual, cognitive, perceptual, and thinking skills. Kids learn to pre-plan steps by using their spatial awareness and cognitive skills. It will help their brain function at a higher level. The only key is to choose the age according to the age of kids during Amazon board games online shopping in Pakistan.
7. Improve dexterity
Many games like snap, Buckaroo, Operation, etc., encourage dexterity by stringing fine and gross motor skills. They also help the brand to have good hand-to-eye coordination for doing the game tasks precisely. These benefits also help improve handwriting.
8. Provide learning opportunities:
There are many games having educational benefits, such as scramble, enchanted forest, Azul, Santorini, and more. They teach vocabulary, English literature, math, and more. Kids can learn these educational skills while having fun with friends. When you search for the benefits of board games research, you will find educational benefits proved by studies and research. It is the reason why preschools add fun board and card games in their activities to make learning fun and additive for kids.
Disadvantages of Board Games:
Every beneficial activity or thing also has some drawbacks, and so these games also have some cons. Before doing Amazon board game online shopping in Pakistan, you should know these downsides to make the right decision. If you do not buy the game as per your kid's age, it may lead to its disadvantage. Below we mention all possible disadvantages for your guidance.
1. Time Consuming:
Some board and card games require hours of playing to complete, such as monopoly, Chess, draft, etc. However, it is not ideal to spend many hours on only one game. Moreover, it is also not possible to leave the game in between and continue it the next day where you left. These types of games may become only a waste of time if it notices the opportunity cost your spent time.
2. Expensive than an online game:
Online games are indeed available for free whereas board game needs to be bought from a local store or through Amazon board games online shopping in Pakistan. So, you will need to spend some money to gain all benefits. Therefore, it may seem expensive to many buyers. But, don't worry. There are still many board games at best Price in Pakistan which you can choose for an unlimited fun time.
3. Create an undue sense of competition:
Indeed they are competitive that encourage the kids to learn and improve their skills. But, it also builds an unwanted and excessive sense of competition. Kids bring their egos to the gameplay to prove their skills in the game. It can lead to fights between players.
4. Sometimes stressful:
These games can be stressful for People who are very sensitive about losing the game. They may be the same people who bring their ego to the game. Therefore, they start stressing out when they foresee their loss.
5. Can be additive:
These games are indeed fun and captivating, but they sometimes become addictive. Kids want to play them for hours to prove their supremacy in the game. They also get distracted from studies and other essentials of life. Therefore, it is important to dedicate time to this game and make your kids close the game after that time.
Best Board Games for Kids in Pakistan
Hopefully, now you know the importance and benefits of board games for adults and kids. If you are thinking to buy the best one for your kid, let us tell you top selling board games that you can choose for Amazon board games online shopping in Pakistan. We categorize our suggestions as per kids' age recommendations. It will help the buyer to select the suitable one that benefits their kids to the fullest.
1. Board games for 3-year-old:
At the age of a toddler, parents should introduce a game that teaches them basic educational stuff while supporting healthy brain development. Follows are some of our best picks.
First Orchard: It is a simple but captivating game in which a little toddler needs to roll a dice on his turn to pick the matching fruit from the basket before a raven. Kids can learn colors and fruits while learning the use of cognitive skills.
Hi Ho! Cherry-O: It makes the kids learn basic math skills, such as counting, adding, etc. Kids need to pick up the fruits from trees and fill them in the requisite baskets. The count of picked fruits will be decided with a spinner.
Richard Scarry's Busytown: This fun game features a race across the busy town while solving mysteries. It is a multiplayer game that makes kids play with friends for unlimited entertainment and action.
2. Board games for 4 year old
At the age of four, you should introduce some fun learning activities with which you can teach basic educational things. From math to language, the right game can make kids learn new skills in a fun and interesting way. The board games list may confuse you, so here we suggest 3 top selling board games:
Zingo: Zingo is the preschooler version of the famous bingo game, in which kids need to match the image card with the corresponding block. It helps develop critical thinking skills.
Count Your Chickens: This game teaches basic counting skills with the fun chicks. Kids need to help mama hen to collect all chicks across their path.
SEQUENCE for Kids: It is a multiplayer game in which players need to make a row of four chips on the board by matching the character of cards in hand and on the board. It helps develop logical thinking.
3. Board games for 5 year old:
Kids of age 5 to 6 years need to be improved memory, communication, social skills, and focus. Therefore, the best games should have fun activities that train the kid's mind for the corresponding skills. You may find many options for Amazon board games online shopping in Pakistan, but here we suggest the best among all for 5 to 6 years old.
Bugs in the Kitchen: In this game, players need to trap the bug by guiding it to the trapdoor. It is an action-packed game on the board that also trains kids to develop cognitive and logical skills. 
Sum Swamp Game: It teaches basic addition and subtraction skills in an interesting way. Kids need to roll dice, do some math, count the result, and lead the animal into a swamp.
Monopoly Junior: The iconic and classic monopoly game is now available in a junior version with simpler gameplay. The kids-friendly rules make it super interesting for little fans of monopoly.
4. Board games for 7 year old
It is the age when you need to educate and entertain the kids at a time. Therefore, many manufacturers have designed the best game that helps mold the mind of kids with advanced imaginative, cognitive, and social skills. There are some best picks for 7 years and above kids.
CATAN Junior: It features a CATAN video game, in which players need to build different prate lairs to discover more resources in the great isles. It helps build imaginative, cognitive, and strategic skills.
Scrabble Junior: Scrabble is one of the favorite board games for adults in Pakistan, and now it comes for juniors too. It has some letter-matching fun that grows as kids get ready for classic scrabble play. It helps improve the vocabulary of little players.
Qwirkle: In Qwirkle, little players need to align the same color and different shapes to score the highest. It needs a tactical strategy that helps improve cognitive and critical thinking skills.
5. Board games for 8 years and above
When it comes to 8 years old and above, you will mostly find complex and advanced board games. You should pick a bit more advanced one, but it should not be very difficult for a young learner. Do not worry because we have suggested a few here to bring ease to card & board games online shopping in Pakistan.
Ticket to Ride: It has simple but interesting gameplay, in which players need to build train tracks across the map. It needs strategy building skills to make a player win by building the completing train tracks.
Hedbanz Picture Guessing: It is a fun family board game, in which each player needs to guess the card shown in the headband. There are more than 60 cards so it is always challenging and fun to guess it by asking simple yes and no questions.
Labyrinth: In this game, players need to find the shortest route in the maze to find and collect the treasure. It becomes more enthralling with the moving maze feature because players can move and change the maze direction on their turns.
So, what are you waiting for? Stop browsing for board games for PC and invest in the best board or card game from Amazon in Pakistan. Whether your kid is a fan of Ludo, scramble, or monopoly, we have amazing options in our inventory.