Hair clips are the best hair accessories, which add an essence of glamour in even simple hairstyle. Hair clips are not only young girls so there is also the vast collection of hair accessories for the older woman too. It includes best hair clips for fine hair, best hair clips for thick hairs, best hair clip for up-dos, etc. Always pick the comfortable hair accessories according to your hair type and hair length. Here you can find the ultimate and top featured hair clips for hair styling, which make your overall hairstyle more attractive and glamorous.
Rioa Duck Teeth Bows Hair Clips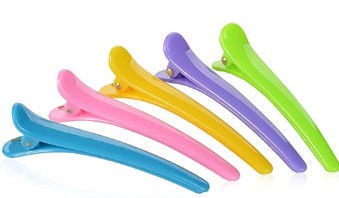 The Rioz Duck Teeth Bows Hair Clip is designed to assist the hairstylist in making any type of hair style. It is multipurpose professional used hair clips. It keeps the hairs in its place when you are cutting specific strands of hairs, washing face, hair styling, etc. Professionals and experts always prefer to have the Amazon quality hair clips, i.e. duck teeth bows hair clips, in their hair salon as they help in hairstyling. It is made from premium quality plastic, which cannot deform easily.
It has an array of crocodile teeth which make it anti-slipping hair clip.
It is ultimate hair accessory for long hair.
It is light in weight and durable in quality so you will comfortably wear it anytime.
The grip of clip is tight but it will not pull the hair while wearing or removing.
It comes in multiple colors.
It is the better substitute of metallic clip that becomes corroded easily.
Revlon Essentials Double Grip Hair Clips
Revlon Essentials Double Grip Hair Clips is the high performance, anti-slip and strong grip hair clip for up-dos. It is designed to keep the hair in place for all day long. The comb teeth enhance the holding power of clip. It will comfortably glide into strands of hairs and lock the hair strand. It comes in black color so you can wear it on any type and color of dress. It is elegant in design so it adds an extra dose of grace in your hairstyle. Online shopping of Amazon hair clips will allow you to enjoy the following features of USA quality hair clips.
The clip has double grip dots, which improves the holding power of hair clip.
It works best on both thin and thick hairs.
It will not slip down the hairs or unfasten easily so you can have your hairstyle lock for all day.
You can use it to clip your front hair band, locking the hair twist, tying half hairs, etc.
QingHan Grosgrain Ribbon Boutique Hair Bows Clips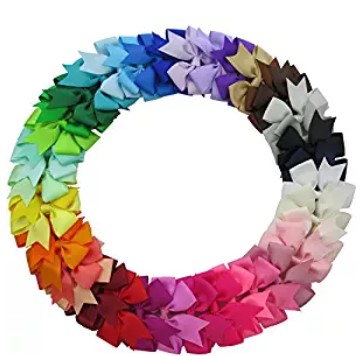 QingHan Grosgrain Ribbon Boutique Hair Bows Clips are designed for young girls, toddlers and under teenage girls. It is 3 inches in size and cute bow shape in design. It is made from high quality ribbon, which is attached with alligator clip. The Alligator clip has anti slip holding power but it does not pull the hair. It comes in variety of colors so mothers can match the color with the dress of kid. It would be the best USA hair clip for children and it can be buy via USA hair clips online shopping.
It compliments any outfit or dress and adds an extra dose of cuteness.
It is suitable for little girls, toddlers, teenage girls, and young babies.
The available colors are Royal, Brown, Navy, Black ,Apple Green, Tan, Orange, Tornado Blue, Turquoise, Purple, Cobalt, Passion Fruit, Hot Pink, Peach, Pink, White, Coral, Raspberry, Red etc.
BeautyMood Minimalist Geometric Metal Hairpin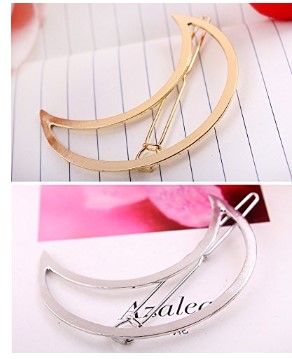 BeautyMood Minimalist Geometric Metal Hairpins are the most elegant and gorgeous hair accessories for long hairs and short hairs. It comes in different geometric shapes, such as triangles, circles, and moon. It is the best party wearing hair accessory that enhances the overall hairstyle look. It is the Amazon party wear hairpins or hair clips that would be prettiest gift for the pretty lady.
It is made from premium quality metal alloy and available in gold and silver colors.
It has the anti-slip and power grip clamp, which keeps the hairs at its place.
The graceful and stylish hairstyle can be formed with the latest hair accessories.
You can wear it in formal parties, any gathering, wedding event, or in any festival.
It looks great on any type of dress and outfit.
Pixnor Leaf Design Girl Hair Clip
It is the delicate and elegant girls' hair clip that can be worn in any party, formal dinner or any function. It is the spring clip, which can hold the hair without pulling and tugging it. Either you want to tie half hair or make attractive up dos, Pixnor Leaf Design Girl Hair Clip would be your ultimate choice. If you want shopping USA hair clips then must buy the gorgeous and stylish leaf clip.
The stylish leaf design hair clip is made from optimum quality and durable metal alloy.
You will find it in two colors, i.e. silver and golden.
It has anti-slip and no tugging design so you can wear it for longer hours.
It would be the perfect present for the pretty women of your life, such as wife, sister, colleague, mother etc.
It makes the simple hairstyle more beautiful and chic.