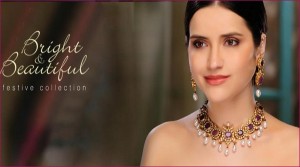 What is the first thing that comes to mind which provides satisfaction and contentment? Out of all the things that give joy and happiness, the thing that has the ling lasting effect on you is jewelry. It seems just like buying a new car or getting something new, but all vanishes and looks lame once you are too addicted to them, but wearing a piece or ornament or jewelry on your body gives you the feeling of and by giving yourself all those lovely comments and contending compliments. It goes on and on even throughout generations, and your grandchildren can also enjoy without investing a dime. Gifts like cars and bikes do not last long in your generations, but jewelry has many lives as a cat.
Women have made jewelry as a symbol of their pride and delight, and why they shouldn't. It arouses asense of love and care. Women love to wear them around and caress them. Polish and sparkles those lovely ornaments and keep them safe. It is nevertheless lovely to be appreciated and commented once a fine pair of jewelry is around your neck.
Pakistan is on the verge of producing delicate jewelry and exclusive esthetic designs and classical ornaments. To maintain a good reputation, Pakistan has endorsed many good jewelry designs adored by her female population.  The famous styles and jewelry type liked by females are usually traditional and classic with a little funky and trendy design.
The most traditional is the Polki design that is simply a symbol of elegance and it is utterly regal. This is made especially for nobility and royalty. It had origins from the Mughal Era. Another traditional cast is the Meenakari, which is made out of uncut diamonds. 24-carat gold is used in it a preciously decorated with gems. Solid gold bangles knew as Karayalso serves as an investment in gold biscuits. It has over thousands of traditional and trendy designs. The famous among them are Multani designs.
Nowadays, trendy and chic designs are gaining a heave. Bracelets with Scissor Shears designs are being purchased heavily. From panel bracelets to Lotus cuffs and from double wrap to logo plaque bands and different charms are gaining popularity among girls of all ages.
Necklaces decorated with new and classical beads and long stripes. Usually,necklace with chains are famous among females because it contains different trendy and artistic designs. Gold plated chains with studs and gemstone necklaces are on the brink of sale. LigneMailon Collar is ideal for formal gatherings. Others include Afghan Classical neck pieces decorated with gorgeous stones.
Earrings are also preferred, especially for young girls.Girls of all ages highly buy These little and beautiful earrings. Famous designs are with beads, pearls, and diamonds. New styles include earrings with leaf designs, traditional jhumkas with innovations, and double-sided black studs.
Nevertheless, if it's a long necklace or small sized earrings or something for your wrist or to make you feel look elegant, it's all about getting the right thing at the right price and getting it delivered tight at your door step.