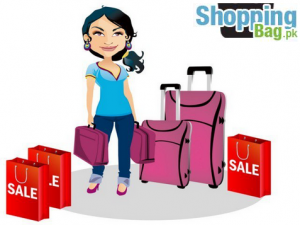 Shopping online is surely a blessing for everyone but the Karachi seems to get more benefit from it. The sensation of getting things right at your door step is never to be felt anywhere else. Online shopping portals are the places where one can get anything they want at the price they want. The people of Karachi are the top consumers of the products throughout the country so getting the thing directly to them is a frantic job that can only be only be done by the online stores.So if you are looking to buy some nice and fresh clothing, or some trendy accessories, cool gadgets, or some gifts for yourself or planning on gifting it to someone, or you like buying imported toys and local markets are out of stock, or some health or beauty care products; our online store has everything you are looking for at the best reasonable prices.
Karachi is a densely populated area with roads filled with loads of traffic where one may never come out if he/she gets stuck. Suitable areas for shopping are far and in between and getting to them is job everyone is at bad. People are sick and tired of waiting for signals and taking diversions due to constructions, and ending up without buying anything for themselves. Most people of Karachi are likely to opt for other ways for shopping due to the present condition of the city. So online shopping has brought a chance for them so they can easily sit in the comfort of their home and order online and let us do the worrying about getting it to you.
Do you often go shopping and end up ruining your hairstyle and depositing dust and pollutants on your face? Alternatively, your kids stop recognizing you once you are back home? We know your feelings so that is why we have arranged an economical way so you can just sit in homes without harming your complexion and spending extra on facial care, because online shopping is the best place to get things done without having anything to worry about.Yes, online shopping is the best economical way for the people of Karachi because transportation can be a wild attack on your pocket.
Nevertheless, Karachi is filled with the colors and lights of the local shops but by looking at the present condition of law and order, one must be wise to stay at home and order online.Bad traffic, unpredicted weather, poor quality of local markets, terrorist attacks, and on top of that all the unnecessary things you buy when you go out; are all signs one must stay at home and shop online. Shopping with us will be an unforgettable experience, and our quality of service is unmatchable. Moreover, our fast customer service will give you the best experience in online shopping. So next time you plan on visiting the local markets and probably getting stuck in the traffic, save yourself a trip and order online and do good to nature!