People, who sit on chair for hours in office, may have the bad posture issue. Bad posture does not only make you posture odd but it also initiate various back issue. If you are also having the bad posture problem then you should pick the best posture corrector belt in Pakistan.
Imported posture corrector belts are designed to forcibly align the muscles of shoulder and back. For getting naturally straight posture, you need to wear the high-quality posture control belt for several hours daily. It trains the muscles to be straightened and be in shape, naturally. If you are seeking for best back straight belt in Pakistan then you should explore the collection of Amazon posture corrector belt in Pakistan. We have suggested here the best posture corrector belts for men and women. For ultimate information about posture corrector for body wellness, you should read and follow this article. We have answered some frequently asked question about posture corrector belts.
Do Posture Corrector Belts Work?
You may lose the muscles tone by sitting for hours in bad posture. The shoulder braces or back straight belt straights the muscles of back and shoulder and makes you look confident and taller. It does not give the straight back in result in few days. You need to be consistent for wearing posture support belt during your regular chores at home or office. It propels the spine to be aligned and straight. With time, your body will automatically become trained to stay upright and straight. It makes you look smart, taller, and confident. You can wear it under the shirt or any regular dress. When you are seeking for the best posture corrector belt, choose the one with comfortable and lightweight feature. Most of the posture corrector belts come with the adjustable straps so you can adjust according to your waist and shoulder size. you can find the large spectrum of imported quality posture corrector belts at the best price, via Amazon posture correctors online shopping in Pakistan.
How Long Should You Wear a Posture Brace?
There are two types of posture belts for women and men, such as posture corrector with adjustable strap and posture corrector with non-adjustable straps. Both effectively work to align the spine. You just need to wear it for longer time on daily basis. It is recommended to put on posture corrector belt for at least 30 minutes. It is the minimum time limit. You can also wear it all day long, while doing our regular chores of home or office. If you feel discomfort or painful muscles refrain then you can take it off after 25 to 30 minutes, initially. When your muscles get habitual to those refrains by posture corrector; then gradually increase the wearing time. You will see the visible result after couple of weeks or 2 to 3 months; it depends on condition of bad posture. For best result, you can buy the professional braces for back, special posture corrector for women or posture belt for men from Amazon posture belts online shopping in Pakistan.
10 Best Posture Corrector Belts to Buy in Pakistan
Flexguard Support Back Brace Posture Corrector
It is the full back-support posture corrector belt, which is design to realign the spine and muscle in the natural alignment. It comes in four different sizes, XS, S/M, L and XL. It is made of enduring and breathable material. You can adjust the fitting with the help of its adjustable shoulder straps. It relieves back pain, and rounded back by promoting good posture and supporting lumber bone. Make your posture correct by using this imported and high quality full back brace corrector, available from Amazon posture corrector belt online shopping in Pakistan.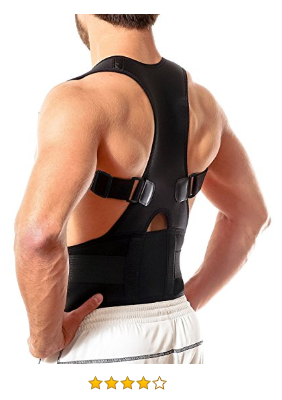 If you want to get rid of slouching posture without compromising the comfort then you should buy this Amazon imported posture corrector belt in Pakistan. The breathable neoprene material is making the comfortable and lightweight posture belt for bracing shoulder and back. It comes with comfortable armpit pad, so the belt cannot irritate the delicate armpit skin. It is the universal back support belt for men and women, both, available online in Pakistan. You can get the best posture corrector price in Pakistan from here.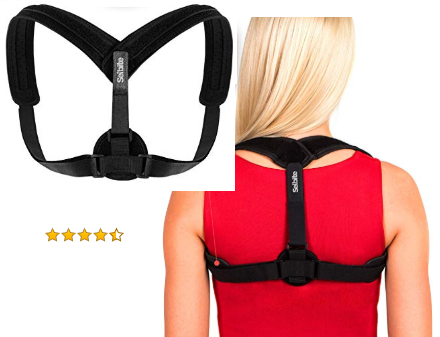 The imported posture corrector belt is designed for the chest size of 34 to 42 inches. The design of the best posture control belt can reduce the back pain due to poor posture and alignment of spine. It would be the great cervical support device, which is used to keep the body in correct posture. It is comfortable to wear, durable built, breathable, lightweight, and easy to adjust back and shoulder support belt, available from Amazon posture belt shopping in Pakistan.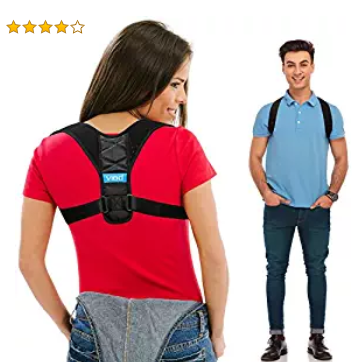 Posturific Brace has claimed the 2-in1 posture brace belt is the effective and the best posture corrector for women and men. It is the great mixture of comfort and support. It is recommended to start the posture correcting therapy at home by wearing this high-quality posture corrector belt for just 30 minutes, in a day. Old aged person can also use it for supporting and keeping their shoulder and back straight. You will find it in various sizes and color, from online shopping in Pakistan.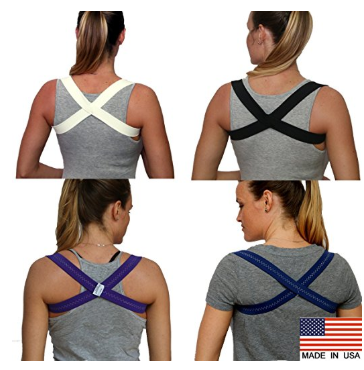 Bad posture can cause the back pain, loss of confidence, and poor alignment. Now you can comfortably get it of that bad posture by using this imported quality posture corrector for women in Pakistan. It is featuring quality Velcro, adjustable buckles, soft and comfortable material, lightweight, and effective for straight back. It is available universal size so it can easily fit on 28 to 42 chest sizes. It also works to relief the back pain due to poor alignment. You can find the best posture corrector belt price in Pakistan and buy it from here to have the delight of Amazon online shopping in Pakistan.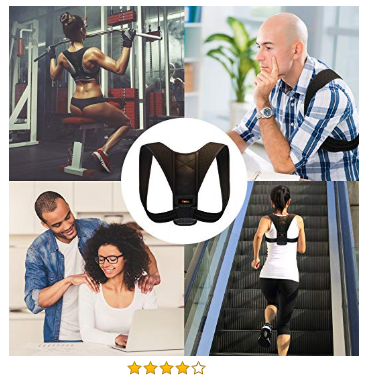 You can correct your posture with the USA imported posture corrector belt by Berlin & Daughter. It is made from durable fabric, which is breathable, durable, and light in weight. The design of best posture corrector can pull the shoulder back and straighten the back. It braces the back and cervical bone and relieves the backaches and pain. It is easy to wear and comfortable enough to enhance the wear-ability of the back support posture corrector belt in Pakistan. You can buy the premium-grade posture corrector belt at reasonable price via online shopping in Pakistan.
The Aofit back support posture belt is providing the orthopedic therapy with its 10 magnets. There are five magnets in waist portion and five magnets in back portion of belt. It propels the body to be straightened, relieves pain, support shoulder muscles, relieve round shoulder problem, relaxes the muscles, and supports breathing. It is light in weight and thin in design so you can wear it under the clothes. You can find 5 standard size according to the waist size, ranging from small to extra large. You can buy it from here via back support posture belt shopping online in Pakistan.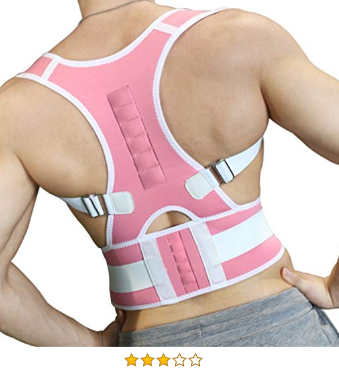 The imported BTUP posture corrector is designed to comfortably improve the bad posture while relieving the back pain. You can relief the round shoulder problem by wearing the high quality and effective posture corrector belt for couple of hours daily. It has the adjustable belt with durable buckles, so you can adjust it as per your size. The soft and breathable material is enhancing the wear-ability of this best posture corrector belt.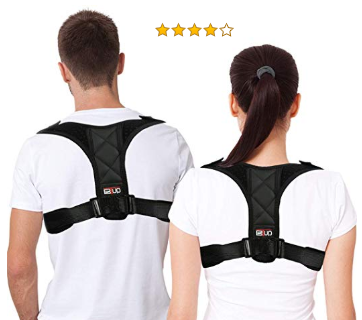 For correcting the back posture and rounded shoulder, you need to wear the best posture corrector belt in Pakistan. This high quality and USA imported posture corrector for men and women is made with premium grade neoprene material, which is comfortable and breathable for skin. The design contains the adjustable Velcro strap so you can easily fit it according to comfort. The pinhole fabric design allows the skin to breath properly. You get the best posture correcting belt price in Pakistan from here, through Amazon posture belt online shopping in Pakistan.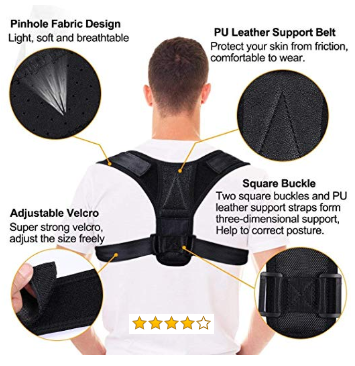 The Enerbodi Back Posture corrector is featuring underarm fleece strap, adjustable fitting, breathable and soft material, easy to wear design, and durable quality fabric. You can comfortably wear it for longer time, even under your regular clothes. It keeps your back straight and pulls shoulders out to correct and improve the posture. Keep your alignment right by wearing the best back support posture belt available online in Pakistan. it is recommended to wear for at least 25 to 30 minutes for getting the straight and smart posture in just a couple of weeks.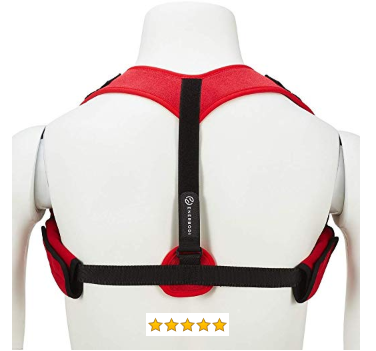 Where To Buy The Best Posture Corrector Belt In Pakistan:
The online shop for Amazon imported fitness products in Pakistan is providing you the ultimate destination to buy top rated, professionals recommended, and bestselling posture belts for men & women in Pakistan. Pick any of the above mentioned or explore the available collection to buy the effective shoulder and back support belt for correcting posture, via imported posture belt shopping in Pakistan. You will get the ordered product straight at your home door, within given delivery time and with the opportunity of cash on delivery. Keep yourself fit and healthy by using top fitness belts and health products, available online in Pakistan.
Summary
Reviewer
Review Date
Reviewed Item
https://www.shoppingbag.pk/search/back-brace-for-posture-correction.html
Author Rating