Smartphones are most important gadget which is needed by everyone. People constantly use Smartphone for shooting any clip, sharing data, watching movies, playing graphics games, texting, calling and many more. These consistent usages of Smartphone frustrate the battery of cell phone and battery goes out of juice. You do not have to search for charging station to recharge your Smartphone battery as there are many other options available which supplements the battery. Cell phone battery charger cases in Pakistan are the best option to double up the battery life. Battery Charger cases have built-in batteries which automatically connect with your Smartphone and recharge the mobile's battery with efficiency. Although, Amazon Battery charger cases add some weight and increases the size of your Smartphone but it also adds an extra protection to your mobile.
Battery Charger Cases and Their Compatibility:
Battery charger cases should be picked according to their compatibility with your phone. There are slim and smart battery chargers cases available on Amazon online shopping in Pakistan, and they can support almost every new model of Smartphone. Apple Battery charger cases are the most demanding as it excellently supports most of the iPhone mobiles. You can find many featured brands of iPhone Battery charger cases online in Pakistan and they come in many designs and colors which complement your iPhone.
How Battery Charger Case Works:
Battery Charger Case for iPhone or for android phones are used to protect and charge your mobile and give you more time to use the phone. Extended Battery phone case has a connector which connects your phone to battery case. You just have to slide your phone into Smart Battery charger case from the top and insert the connector with your mobile. Make sure you do not damage the connector. By connecting Battery phone case, your mobile automatically detects the charger and charge the cell phone battery when needed. For instance, iPhone Battery charger case comes with lightning to USB cable which gets connects with iPhone by its lightning connector on iPhone battery case. You can charge your smart battery charger case with any USB power adapter. You can buy Amazon quality Battery charger case for Samsung Galaxy S6, iPhone 6S, 6 plus and iphone 7 online in Pakistan.
Top Rated Battery Charger Cases for iPhones and Android Phones:
Anker Ultra Slim Extended Battery Case: Anker is the famous brand of portable chargers which offers best battery chargers for iPhones. Anker's Extended Battery case is a stylish battery charger case for iPhone 6 with larger capacity up to 2850mAh. This Amazon quality Battery charger case has 4 LEDs which indicates the remaining juice of battery case. Unique design of Anker's phone case offers easy to fit or remove case as it has two slim pieces which can give the slim look to your iPhone. Battery case has soft and pleasant matte finish which enhances the grace of your iPhone.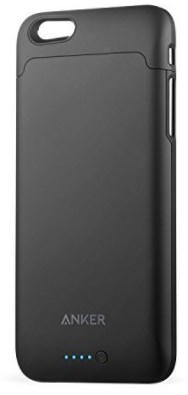 Unu DX Charging Case: It offers 3000mAh of the Battery power which will add almost 125% extra battery life to your iPhone. It is the best battery charger case for iPhone online in Pakistan. Two pieces slide design is an awesome feature of this Amazon quality battery charger case as it can easily fit on your iPhone. 3 LEDs of 3 different colors indicates the status of charging juice left. Unu charging case for iPhone supply great protection of your phone from any external damage. You can find this amazing featured charging case price in Pakistan through online shopping in Pakistan.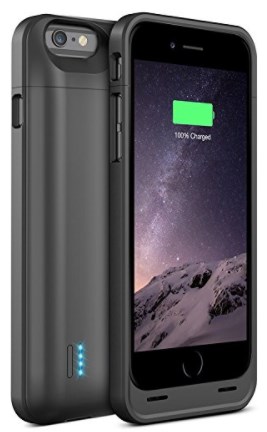 Trianium Battery Case for iPhone 7: Trianium battery case has 3200mAh of Li-polymer rechargeable capacity which add almost 14 hours of extra battery life. It is also equipped with LED lights to indicate the battery case charge status. It has smart, comprehensive bumper design which can guard your iPhone from any wear and tear or from any damage. This Amazon quality battery phone case involves synchronizes through technology which connects and syncs your iPhone to any laptop or computer system without removing the battery case. Apple certified parts are installed in this extended battery charger case for iPhone 7.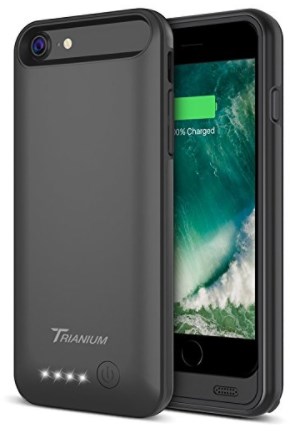 Never Run Out Backup Battery Charger Protective Case: If you are searching the Battery charger case for Galaxy S7 or S7 edge then it is the best option for you. Never Run Out backup battery charge case has powerful 5200mAh capacity Li-Polymer batter which doubles the battery life of Samsung Galaxy S7. The slim and lightweight design makes it easy to carry in your pocket or even in your hand. LED indicator light is also installed on the back of the case which indicates the remaining juice of the battery case. It will definitely satisfy you as it is tested on Samsung Galaxy S7 for maximum satisfaction. You can find Never Run out Backup Battery Charger Protective Case for Samsung Galaxy S7 online in Pakistan in reasonable prices.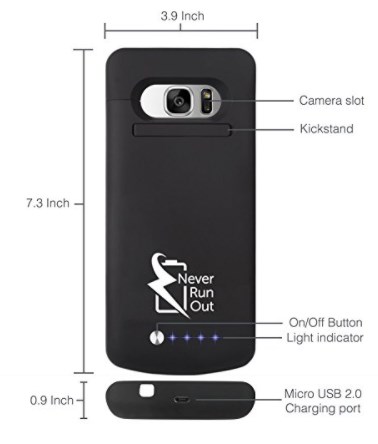 Smiphee Battery Case for iPhone 6 and 6S: It is the Amazon Bestselling Battery case for iPhone 6 as it is slim and light weighted case. You can charge your iPhone 6, 6S and your Smiphee battery case in a same time with your iPhone lightning cable. It can synchronize your iPhone with your Macbook, laptop or computer easily without taking battery case off. It has 2500mAh of battery capacity which provides 11 hours extra battery life to your iPhone 6/6S.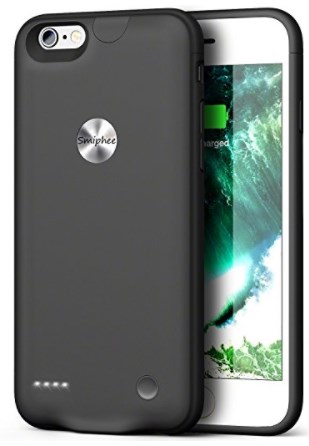 Buy Amazon Battery Charger Case online in Pakistan:
Add up an extra life to your Smartphone battery with Amazon quality battery charger case which you can find and buy from online shopping in Pakistan. These slim and smart best battery phone cases are available online in exclusively best prices in Pakistan. Place your order online for Amazon imported battery cases for your mobile and upgrade your Smartphone battery. You will get your order at your doorstep in minimum delivery time and with a facility of cash on delivery.