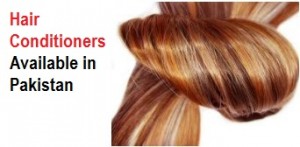 Hair Conditioners are not just for women that have thick, full and damaged hairs. Everyone require nourishment of hairs by Hair Conditioners. There are conditioners that are specially formulated for every hair type.
The hair damage may be cause by heat styling, frequently washing, combing, and towel drying; these may lead to dull, dry, rough, and split end hairs. Hair Conditioners are used to restore the shine, moisture and smoothness of hair and reduce the frizzy hair appearance. Conditioners are used instantly after washing of hairs with shampoo and it is meant to restore and sustain the lost moisture from washing hairs with shampoo. Hairs Conditioners are also smooth the cuticle of hairs and balance the pH level of hair after washing with harsh shampoo. As a result of Hair Conditioners, the tangling of hairs reduced and shine of hairs get increased which will give more manageable naturally beautiful hair at the end.
Type of Hair conditioners
Deep Hair Conditioners: There are the hair conditions that worked at a deeper level of hairs. Deep Hair Conditioners are perfect for the damaged and dry hairs. Deep Hair Conditioners contains the ingredients that treat the factor that are causing dryness and reverse the hair damage process. Hair Conditioners for deep conditioning may includes the oils, emulsifiers and waxes. Deep Conditioners are not recommended for normal or oily type of hairs as it will weigh down oily or normal hairs. The procedure to use the deep conditioners is changed from typically conditioning of hairs. Deep conditioner applied and left on hairs for at least 30 minutes and it will rinse thoroughly with water after 30 minutes. Hairs get repair and restore with deep conditioning. You can use the deep conditioners on your hairs once in a week or a month depending upon damage. Deep conditioning of hairs will give the remarkable hairs if you use it few days before the hairs dyes application.
Leave-in Conditioners: leave-in conditioners are thin in consistency, less viscous and light weighted. Leave-in conditioners are act as the hairs moisturizers that can sustain the hair moisture content and protect the hairs. Leave-in Conditioner contains the surfactants that form a thin layer of conditioner on hairs. Leave-in conditioners are just applied as the styling gel which stays on your hair after shower. Leave-in conditioners can effectively detangle your hairs and minimize the messy hairs formation. Leave in Hair conditioners are best for the thin hair, greasy and curly hair type.
Rinse-out Conditioners: Rinse-out hair conditioners are easy to use conditioner for everyday use. Rinse-out conditioners just work perfectly and condition your hairs beautifully in just a couple of minutes. You just have to apply the Rinse out Conditioner on hairs after shampooing your hair and leave it for just couple of minutes then rinse thoroughly with water. Rinse out conditioners will work efficiently on the cuticle of hairs and create a layer of protection on outer layer of cuticle, make the hair smooth and shiny. Rinse out conditioner is perfect to be used on hairs on daily basis to protect your hairs from heat styling. Rinse out Hair Conditioner is recommended for normal, dry and oily hair type.
Best Conditioners for All Hair Types:
Best Hair Conditioner for Fine Hair: Fine hairs experience the most problem compare to other type of hairs. Fine hairs can easily break, tangled, dried, and damage easily with any harsh chemical of any hair care product so it should be treated with extra care. L'Oreal Paris EverPure Volume Conditioner will work perfectly on fine and thin hairs. This hair Conditioner is sulfate Free and does not have any harsh chemical and it will add a protective layer on hair cuticle that will last for whole day.
Best Hair Conditioner for Damaged Hair: It does not manner that from where the damage come from, either it is from heat styling, pollution, and exposure to humidity, or combing. The damaged hairs should be treated with right hair care product. Garnier Fructis's Triple Nutrition Fortifying Cream Conditioner is best for damaged hairs as the Avocado, Olive and Shea Oils will soften the hairs and provide nourishment to your hairs.
Best Hair Conditioners for Itchy Scalps: Itchy scalps are usually occurred from the dryness and dandruff accumulation around the hair follicle. Klorane's Hair conditioner will work best as it has the botanical calming formula including the oats extract. This Hair Conditioner will detangle the hair strands easily with chicory root and Oat Milk.
Best Scented Hair Conditioner: The fragrance of the hairs should be refreshing and the best scented hair conditioner suggested by us are Paul Mitchell's Tea Tree Lavender Mint Moisturizing Conditioner that contains the bracing floral and herbs scents.
Best Hair Conditioner for Shine: Shine of the hairs is the most demanding feature for hair conditioners and the Fekkai's Brilliant Glossing Conditioner is best in this regard. The Olive Oil base formulation of it will coat a layer of shine on hair's cuticle and make your hairs looking healthy and beautiful.
Best All-Natural Hair Conditioner: Sensitive Skin type can get irritated and reacted with any chemical so they requires the natural hair care products and EvolvH Ultra-Shine Moisture Conditioner is best for those people. This Hair Conditioner has all organic ingredients almost 20 herbs such as the sunflower, pansy, passion flower and sweet clover extract. The natural formula can nourish the hairs and complete all the requirements of Best Hair conditioners.
Best Leave-In Hair Conditioner: Profound Beauty Hush Time-Out Treatment is the best Hair conditioner that will treat the frizz hairs and give the beautiful natural hairs. It is post shower Hair conditioner that is applied on hairs and left for overnight or for 30 minutes and get the salon hair treatment at home.
Best Brands of Hair Conditioners Available In Pakistan:
All the best Hairs Conditioners for all type of hairs area available in our amazing hair care collection. We are importing best featured brands and products of Hair Conditioners from Amazon Online Shopping in Pakistan for you. You just visit our site and search your desired hair care product and order now and enjoy the Amazon Online Shopping in Pakistan. The Product will be at your door step after an order in a minimum time span and in an affordable price.