The magnetic levitating toys are the exciting and mesmerizing floating toys available online in Pakistan. The magnetic spinning top floats on the tops of polarized magnetic and it seems interesting to see the spinning top suspended in air.
Kids also fascinate to see such magical floating on your study stable. It would be the best decoration toy for office desk. It seems relaxing and stress relieving to see the floating toy on your desk. There is large range of interesting magnetic levitation toys, available from Amazon online shopping in Pakistan, such as floating globe, magnetic levitating education toys, magnetic levitation desk toys, magnetic levitation devices, magnetic levitation platforms, anti  gravity toys, etc.  Here we have mentioned the top magnetic levitation toys in Pakistan, which are interesting and attention grabbing for kids and adults.
The imported magnetic levitating desk toy is consisted platform and a spinning device, which can rotate in air, above the magnetic platform. It spinning device is two-shaded, which seems captivating when it revolves with speed. By just connecting pointed end of spinning tool, it starts rotating and spinning. It is the ultimate pick as the birthday gift for adults and educational gift for kids. Find the best magnetic levitating toy price in Pakistan and get the top rated one from Amazon magnetic levitating desk toys shopping in Pakistan.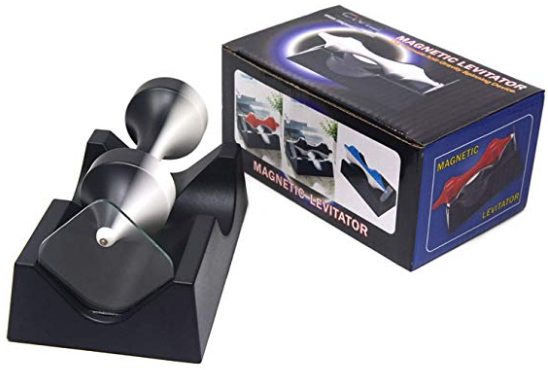 VGAzer Magnetic Levitating Moon Lamp
If you are looking for interesting magnetic moon lamp then you should prefer the USA imported VGAzer Magnetic levitating moon lamp, available online in Pakistan. The moon globe is designed with 3D printing technology so it seems so realistic when it lights up and rotates. The moon lights up in gradient range of white to yellow. It has touch control switch, which allows you to manage the light of base and moon separately. It would be the perfect magnetic levitation decoration piece to be placed in living room, bedroom, office, kid's room, etc. You will find it in the collection of Amazon magnetic levitation toys in Pakistan and get it via online shopping in Pakistan.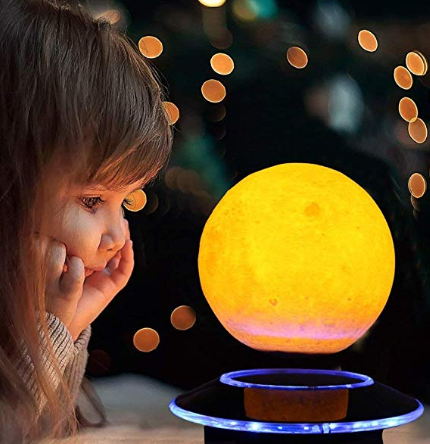 The high quality C-shaped Magnetic Levitation globe seems fascinating when it lights up in dark room. It works in electronically controlled magnetic system, which propels the globe to suspend between C shape levitation inducing device. On the rotating globe, there is the full world map print. It is mesmerizing to watch the rotating globe. It is the great Christmas gift, anniversary gift, birthday gift for anyone. The multi colored LEDs fix with C shape frame and they seem captivating for watcher. It can be bought at the affordable price via Amazon magnetic levitating toys online shopping in Pakistan.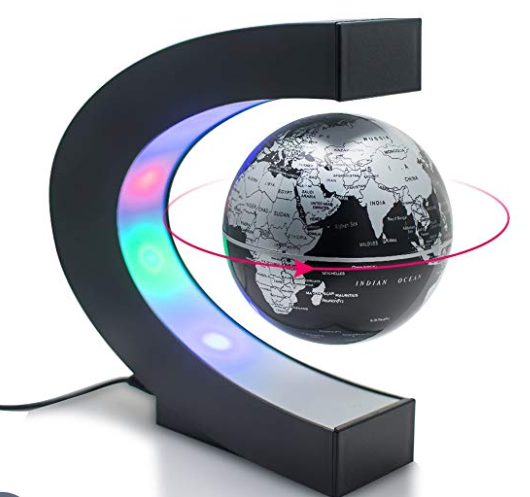 VGAZER Magnetic Levitating Floating LED Light Bulb
The magnetic levitating floating LED bulb is amazing to see on the tabletop. Anyone will be amazed to see the bulb suspended in air. The magnetic levitating platform and bulb base is made of wooden print PVC. It is durable and high quality. You can place it in any room of house, or on office desk. It seems magical to see the LED bulb lights up without any wire. You can also present it to anyone on any occasion, as it becomes memorable gift. You will get it at exceptional reasonable price from Amazon Pakistan via USA imported levitating bulbs shopping in Pakistan.
FU ZHOU Floating Globe World Map
The Floating Globe World Map is operating on magnetic levitation technology. It golden shaded globe revolves between the ring of electromagnetic energy source. The O shaped substrate has the multi-colored LEDs, which seem fascinating to watch. The clear world map is printed on PVC globe. It can be the ultimate gift for kids and adults. Anyone can get from the collection of Amazon imported magnetic levitation toys in Pakistan.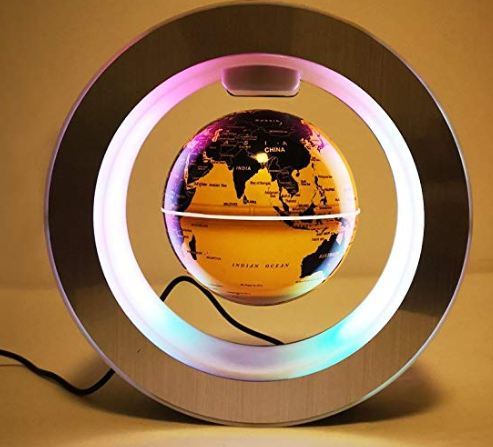 Active Gear Guy Levitating Plant Pot
If you are looking for anti-gravity decoration toy for your living room, the active gear guy levitating plant pot will be the best pick for you. It is an interesting magnetic levitating decorative piece, which enhances the look of your living room or office desk. Japanese style artwork is printed on base. Small sized plant pot, available in kit, can suspend in mid air by the force of bipolar magnets. The original ceramic design of floating toy is available from imported Magnetic levitation toys online shopping in Pakistan.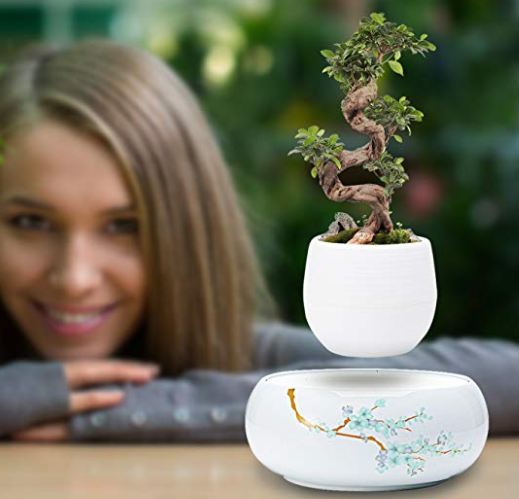 Most of the people want to make magnetic levitating toy, so this is the ultimate magnetic levitation kits for DIY project. It contains Magnetic Levitation Display Platform and magnetic levitation floating holder. You just need to decorate it as per your interest or give any theme as per your interior. You can place on pot or decoration piece on holder and let it floats on air. It seems magical for other to see ordinary things floating in air. You will get the complete set of electromagnetic levitation gadgets from Amazon online shopping in Pakistan.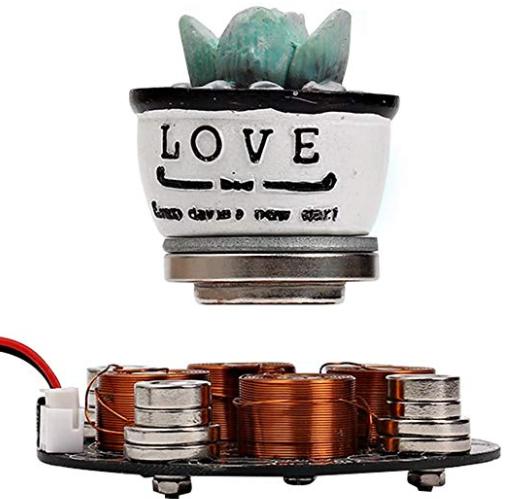 The high quality magnetic levitating globe is 8 inches in size and has the clear print of world map. The Levitating stand provides the anti-gravity force by bipolar magnets, which keep the globe suspended in middle air. The stand also contains multiple LEDs, which shower the light on globe. The floating globe seems more fascinating with the effects of lights. You will get the imported magnetic levitating desk price in Pakistan via the facility of online shopping in Pakistan.
Soditer LED Luminous Levitating Globe
The magical levitating globe comes with the magnetic levitating platform, which provides the electromagnetic force to make the globe float in air. The colorful and well-defined world map is printed over the globe. It is ultimate and elegant decoration piece for living room, study room, office desk, or bedroom. You will get it at reasonable price via the facility of Amazon magnetic levitation toys shopping in Pakistan.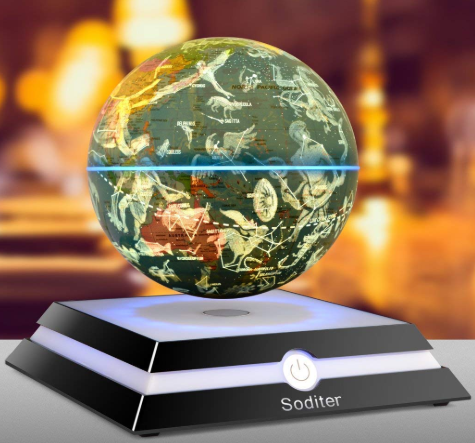 You can find any of these from the collection of USA imported magnetic levitating toys collection in Pakistan. Pick any one and hit order now for buying it from Amazon Pakistan. You will get the ordered product at your home door with the facility of cash on delivery.
Summary
Reviewer
Review Date
Reviewed Item
Author Rating