Hair ties are one of the essential thing which is need by everyone long or short hair girls. Either you have silky hair or coarse hair; you just want to have a ponytail hair tie that hold all your hairs. Sometime, poor quality hair ties make hair bumps and cause hair breakage and it is the most irritable thing for girls. neither they want too loose ties or too tight because both can give the feeling of discomfort. The highly featured and best hair ties for straight, curly, thick or thin hairs are discussed below for the seeker of ultimate hair ties of all times.
invisibobble Traceless Hair Ring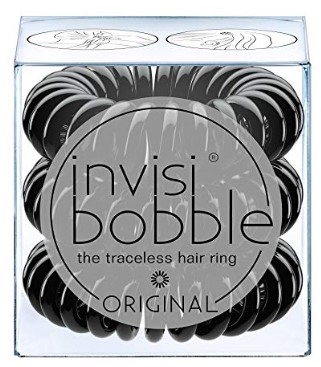 The simple but elegant hair up-dos require the perfect and comfortable hair ties. The invisibobble Traceless Hair Ring is the most trendy and top selling hair tie ever. It is designed as the telephone cord. The design ensures that there will be no snagging and no slipping. The wearer will not face any tearing or pulling of hair. It is designed for every type of hairs, such as curly, fine, think, straight, silky, short or long. The offered features are:
Made from premium quality TPU material, which is eco-friendly
If the stretchiness of hair ties loses its elasticity then it is recommended to the ties in warm water so it comes again to its original shape.
It is perfect for making any type of hair up-dos such as simple ponytail, hair bun etc.
It is the ultimate hair styling accessory for daily wear and everyday up-dos
Scunci No Damage Hair Elastics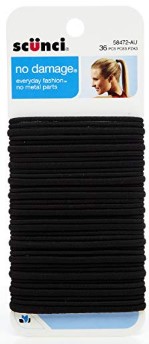 The conventional hair elastics has been transformed classic black no damage hair elastics. It is the ultimate hair ties for every hair length, hair type and hair thickness. It is tough enough to hold the hairs at its place. It is super stretchable hair band. It is available in 2 sizes such as 4mm and 2mm. It is the perfect combination of soft and tough elastic hair ties. It is the best casual style hair elastic band, which helps the user to make any type of hair up-dos elegantly.
It is perfect for both long and short hairs.
No snagging and slipping will occur.
The black color of hair tie can camouflage in hair so you can use it on any type of dresses.
It does not pull the hair or break the hair due to twisting and tying it tight.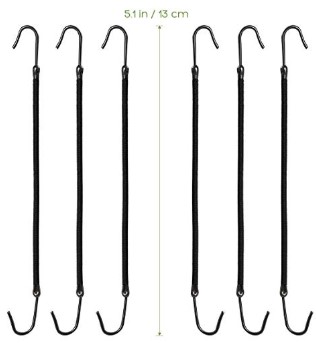 Ponytail hooks are the elegant type of hair ties, which allow you hold your hair as per your requirement tightness. It actually wraps around your hair without tugging the strands of hairs, which may cause hair breakage. Snagging of band is also not experienced by the user. It is the perfect hair ties for creating the natural and classy hair ponytail in few seconds. Hairstylists prefer to tie the ponytail hooks for quick hair up-dos. The available features offered by the ultimate hair ties are
It is made from premium quality polyester and hardware.
The hooks are made from quality hardware so it will not corrode easily.
The sot textured material makes it comfortable to wear hair accessories of all time
It can be used on making simple ponytail, braid, half knots etc.
It comes in size 12.5×0.3×0.3cm, which is perfect for any hair thickness and hair texture.
Black No Crease Ponytail Holders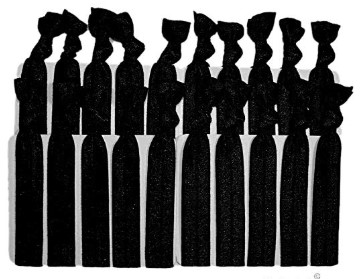 Black Hair Ties Ponytail Holders is the special no crease ribbon, which can keep all hairs in band at its place, with maximum comfort. It is the ponytail ribbon, so you can easily tie your hair in any way and style. Tightness of band will be definitely up to you. Now there is no snapping, slipping, tugging and pulling of hairs with the hair ties. It can go well with any type of hairstyle. The elegant and classy look can be made at home with just the super elastic and soft textured hair accessory.
It is perfect for everyday hair up-dos, in summer days.
It is available in black elegant color so it can be worn on any occasion.
The classy and stylish up-dos and hair ties can be done at home with just an amazing and high-quality ponytail holder.
It is made from washable material so you can renew it by hand washing.
It can also be used as anklet and bracelet.
Goody Ouchless Jersey Scrunchies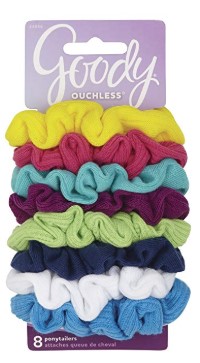 It is the just light hair ties for thin hairs or fine hairs. It is made from jersey material, which does not pull the hairs or slip down from the hairs. The jersey Scrunchies comes in variety of colors so anyone can wear as per the color of dress. The just perfect ponytail holder for summers. The colors complement the hairstyle as it adds the flavor of fun through the refreshing colors. The compatible hair up-dos with Goody Ouchless jersey scrunchies are elegant hair bun, half ponytail, half knot, etc.
The perfect diameter of scrunchy perfectly hold the medium thick hairs, without snapping and slipping.
It is the ultimate everyday hair styling accessory, which makes your hair elegantly style.
It can be worn on any type of occasion, party, ceremony and event.
It comes in a set of 8 random colors of jersey scrunches.