Many duplicates and fakes of Ray Ban are available in the market selling the copy of the original as genuine. Learn the indicators that will the difference between original and fake Ray Ban Sunglasses. Most commonly the vendors make fool to people with the fake Sunglasses and sell them as original. Genuine Ray Ban has high quality material used in the manufacturing of the Sunglasses. Beware before you buy a pair of Ray Ban sunglasses. Users can recognize the differences easily now. Be smart to buy the original with confidence. The original material of the glasses is flawless while the any rough area can tell that the glasses are copy. High quality is the only sign of the originality of the Ray Ban that must be found on every part of the sunglasses rather it's a part or sticker.
Low quality material or finish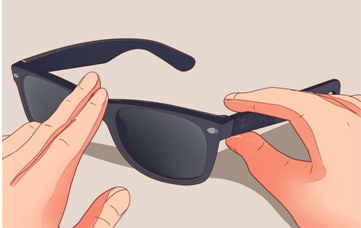 Any kind of roughness, low quality of material or flaws in the finish will clearly indicate that this is the duplicate and not the original one. The genuine Ray Ban glasses are crafted with the very fine material and finish. The polish of the Ray Ban sunglasses is also quality and hard.
Light Weight
Through the glasses up in the air and catch they back. If you feel less weight in hands or feel the glasses as thin or light and fragile they are must fake and copy. Original Ray Ban Sunglasses have a weight.
Low quality metal hinges or engravings in the corner of the glasses

The quality is the most prominent sign of the Ray Ban glasses. If you find low quality metal hinges, low quality plastic and low quality engravings in the front corner of the glasses they must be duplicate one.
Quality of the nose pad
The nose pad must be of the high quality rubber that is comfortable for the nose. The rubber in the original Ray Ban should be firm and soft. If you feel them low quality, loose and easy to remove it is the sign of duplicate Ray Ban.
Ray Ban logo on the arms of the glasses

If the Ray Ban logo on the arms of the glasses is stick with the low quality glue and purely connected the glasses are probably fake.