Mechanical knee supports worn for painful or injured knee. Knee braces are also used to prevent sports injuries. The material used is a combinations of metal, foam, plastic, elastic material and straps. Their sizes, colors and designs vary according to the needs. Primarily they are of four basic types
Prophylactic braces: These are designed to protect knees from injuries during contact sports like football.
Functional braces: These give support to knees that have already been injured.
Rehabilitative braces: These limit harmful knee movement while a knee is healing after an injury or surgery.
Patellofemoral braces: These help the kneecap move smoothly over the knee joint.
Most effective ones are functional braces and rehabilitative braces. Their effectiveness varies from person to person. Regular users report that these are helpful. According to doctors they are improving the quality and accessibility of these braces. The doctor may suggest these on a very early stage of your knee injury in order to save you from more damage. Some doctors suggest knee braces instead of knee surgery in case of torn ligamentous injury. In severe cases these may be suggested after knee surgery. They are easy to use but precautions must be taken when putting the brace on to make sure that the hinges are where the knee bends. Straps, tapes or Velcro® hook and loop tapes should be fastened around your leg. You should check the placement of the brace during activities to make sure that it hasn't moved. Poorly positioned braces can hurt rather than help you. Inspect your brace often for wear and tear. Regular cleaning with soap and water is good for the brace fabric. Exposed metal should be covered to protect others from injury. A worn-out brace should be replaced for maximum benefit. More durable materials may cost more, but the brace might last longer.
One of the best and long lasting knee braces that we provide for both acute and chronic pain is Bracoo Knee Support, Open-Patella Stabilizer. It comes with adjustable strapping & extra-thick breathable neoprene sleeve. It consists of open patella stabilizer, reinforced stabilizer ring, full-customizable velco straps, and extra think neoprene sleeve.
 Open patella stabilizer is used to relieve pressure surrounding the knee joint and reduces stress during high intense exercise and heavy work. It is most effect for relieving acute and chronic pain from arthritis, strains, sprains, and fatigue. It is considered most appropriate and suitable for post-surgery recovery or preventing sports injuries.
Reinforced stabilizer ring is there to keep the knee cap in its place and evenly distributes the stress across ACL, PCL, LCL and MCL ligament in order to prevent a specific ligament from being over pressured. It also reduces the risk of future injuries or dislocated knee cap.
FULL-CUSTOMIZABLE Velco straps can be attached to any exterior point, preventing slippage, and accommodating a broad range of users with different needs
EXTRA-THICK NEOPRENE sleeve offers additional protection and improved blood circulation to the muscles and tendons even as internal perforations draw away excess perspiration from the skin for a more comfortable experience
It is comfortable and reliable method to get rid of pain and stay free of injury.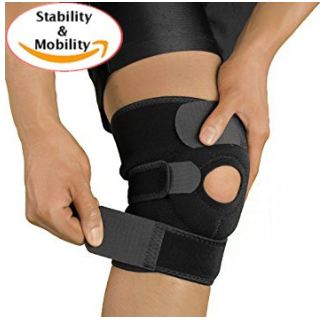 UFlex Athletics Knee Compression Sleeve
Another bestselling is UFlex Athletics Knee Compression Sleeve that supports running, jogging, and sports best for relief of Joint Pain, Arthritis and injury recovery-single wrap. Mainly the benefits include relief of chronic injuries, inflammation/swelling, soreness, stiffness, has heating effect for muscular recovery. As far as sports are concerned suitable for all sports activities that involve a great amount of stress on the joints like: running, basketball, soccer, football, golf, cycling, tennis, hiking, volleyball and skiing etc. Other than this it aids in pain relief, recovery, runners & jumpers knee, arthritis and tendonitis. Anti-slip silicone keeps a stable compression during gym time, squats, weightlifting, yoga, fitness.
For the size and measurement consult the chart given or your doctor.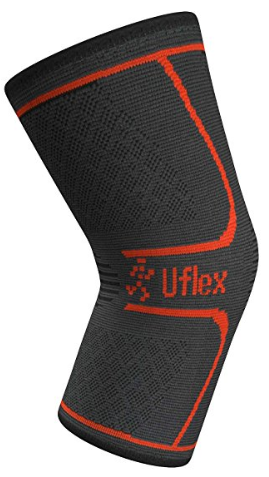 Cambivo Knee Strap Brace
This one is specialized to stabilize patella and Knee Pain Relief. Its benefits include the support for hiking, soccer, basketball, running, tennis, tendonitis, Volleyball & squats. Undergoing physical exercise or even taking a simple stroll by the park seems like a big task but with Cambivo Knee Strap Brace life becomes easy. It can be easily adjusted and comfortable and highly durable. It is 100% risk free and satisfaction guaranteed.