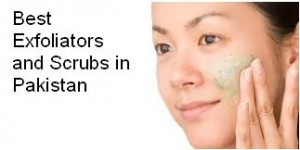 Facial Scrubs and Exfoliators are used to make skin soft, youthful, glowing and to feel beautiful. Facial Scrubs and Exfoliators have small beads or particles or particles for the removal of dead cells of the skin. With age the rate of regeneration of cells get slow down so the dead cell of skin pile up on the upper layer of face that makes the skin dull and dry. This pilling up of dead cells is also the cause of clogged pores and excess oil that leads to acne and blemishes. So proper scrubbing and exfoliation can remove that skin and refresh the facial dermis while moisturizing your skin.
Facial Exfoliators or scrubs for your skin
For Normal Skin: The problem free skin type, normal skin, can be used any enzyme based exfoliator or scrub. The jojoba beads scrubs are the best as it has gentle exfoliation capacity. The exfoliator with bromelain (enzyme from pineapple) also works perfectly on normal skin type.
For Oily Skin: many people think over-exfoliation is the right way to get rid from facial oil but it result in opposite direction. Although Over-exfoliation dries out the skin but in that response more oil going to be produce.  The exfoliator or scrub with charcoal content is the correct one for oily skin type. It can attract and absorb all the impurities and excess oil from the facial pore without drying out the skin.
For Dry Skin: Moisturizing the skin is the main thing for dry skin type so dry skin type should use the exfoliator that contains moisturizers. The exfoliation should be less frequent such as once in a month. Manual exfoliation or scrubbing is the best way to get correct exfoliation for dry skin type.
For Combination Skin: This special type of skin requires special exfoliator or scrub. The scrub or exfoliator product with fruit enzymes are the best in this regard. This type of exfoliator or scrub gently gives the fresh glow without damaging the dry skin.
For Sensitive Skin: Mild and small beads exfoliator and scrub are the most suited one for sensitive skin but always test on small patch of your skin instead of exfoliation directly on entire face.
For Aging Skin: The exfoliator or scrub with glycolic acid is perfect for aging skin type as the aged skin's cell regeneration is lowest so gentle exfoliation with effective removal of dead skin is the most required element in this regard which can be helped by glycolic acid.
For Sun-Damaged Skin: Exfoliating or scrubbing the sun damaged skin is not the solution. You have to skip the exfoliation when you have severe sun burn. Hydrate and moisturize your skin and wait for returning the damaged skin to get normal. Then used facial exfoliator or scrub according to your actual skin type.
For Acne-Prone Skin: the exfoliation devices like cloth or brushes should not be used on acne prone skin as they may contain bacteria that can make the acne problem severe. The scrubber or exfoliator with salicylic acid should be used to keep the facial pores clear.
In general: Facial scrubs and Exfoliators with walnut shells, apricot pits, aluminum oxide or almonds are perfect for oily skin. Facial scrubs and Exfoliators contain plastic beads and alpha or beta hydroxy is perfect for sensitive and dry skin type.
Tips for facial scrubbing and exfoliation:
Always exfoliate or scrub at night so your facial cells can turnover night
Apply Vitamin C or retinol after exfoliation and scrubbing your face.
For regular and frequent exfoliation, replenish the natural oil of your skin. The best way to for moisturizing is the use of hypoallergenic and natural ingredient such as coconut oil, recommended by dermatologist.
If you over-exfoliate your skin then does not get hyper, just wait for a week and give your skin a rest. The use of skin care products that contains vitamin C or green tea is best in this regard. The redness will get reduced with cortisone cream over the counter.
Procedure for facial exfoliation and scrubbing:
Find out your skin type because there are many facial exfoliator and scrubs for every skin type.
Check and read the instruction given on the label of Facial Exfoliators and Scrub. Read especially the warning, precautions, possible allergens, expiration date and adverse interactions.
Wash your face with warm water to ensure the removal of makeup or skincare products from the face.
Tied your hairs back in pony tail and wore head band for minimal interference from them.
Apply Facial Exfoliators or Scrub and start massaging on your face for a couple of minute. Massage all over the face and neck with gentle hands so skin cannot get red. Be careful while you are scrubbing around eye area.
Do not massage more than 1-2 minute that may cause sensitivity or irritation.
Rinse your face with Luke warm water to remove the Facial Exfoliators or Scrub
Dry out your skin with gently patting the towel on your face.
Moisturizing is the integral part of exfoliation so does moisturize your face best moisturizer according to your skin type. The over production of oil can be prevented by this process.
Observe the smooth, soft and fresh skin and enjoy the best younger looking skin.
Top Brands of Facial Exfoliators and Scrubs
The best original brand of Face Exfoliators and scrubs are available in our site from Amazon Online Shopping. Now you can enjoy and facilitated with amazing online shopping site Amazon in Pakistan. Do not rush over the shop and suffer to get best Face exfoliator or scrub just visit our site and place your order and enjoy the youthful look in reasonable price.