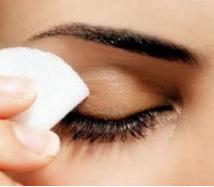 Makeup Removers are not only the product for just remove the makeup, it also cleanse the pores of the skin from dirt and prevent it from clogging. If makeup is not getting removed before going to bed then it may be able to create skin trouble. As me need air to breathe, similarly our skin need that too. Women use various products for removing the makeup which has various chemicals that may clog skin pore or penetrate into the skin. For healthy and refreshing skin tone, clean your face with best makeup remover.
Best Makeup removers should be easy and safe to use. Makeup removers should be free from emulsifier, preservatives and surfactants. These agents may create dryness, allergy and irritation on skin. We are offering best brands of makeup removers which have qualified for best cosmetic product by professionals of fashion industry. All of these products are available and imported from Amazon Online Shopping in Pakistan
Eye Makeup Remover: Some makeup of eye is so stubborn, because of their water proof property, that it cannot be removed easily; such as Mascara or Liner. Eye is very delicate part of face, so it has to be treated carefully.
Face Makeup Remover: Face skin are of various type; like oily, dry or combination or both so it is important to choose the right product for your face according to your face problem e.g. makeup remover containing tea tree oil is best for oily skin. Similarly, some makeup remover has moisturizing capability so those can be use on dry skin.
Lip Makeup Remover: Some lip makeup like lip stains are difficult to remove. When you remove the stain with water or any cleaning agent, it will not wholly clean the stain, some frustrated shades of stain left behind on lips and change the natural color of lips. For getting rid of that lip stain, lip makeup remover should be used, which remove the stain and give the hydrated and nourished lips.
Types of Makeup Remover:
Makeup Removing Wipes: this is the most convenient and portable makeup remover. The quickest and efficient way to remove the makeup is the wipes for removing the makeup. It is suitable for less drying skin or oily skin. Makeup remover wipes have almost 98% natural ingredients like cucumber extract. It must be taken into account that you should wash your face for preventing the skin form dryness or damage as it can leave some chemical residue behind on skin.
Makeup Removing Oils: These Oils are used to dissolve all the makeup instantly. The stubborn makeup like mascara liners etc. can be removed easily with makeup removing Oils. As the name include oil word, it does not mean it could promote the oil production on skin rather it only regulate the production of oil so skin does not feel dry. This type of makeup removing product is suitable for all type of skin.
Cleansing Milk as Makeup Remover: the thin and creamy texture of makeup remover has become the unconventional optional for everyone. You can massage it on your skin and waste it off with water and you are amazed to see the disappearing magic of makeup.  The main factor which makes it super efficient is the retention of moisture and natural oil without any stripping skin. The moisturizing formula of cleansing milk makeup remover makes it preferable for the dry and sensitive skin.
Cleansing Water Makeup Remover: As water is the essential part of body and it is the most beneficial agent for skin nourishment. You can cleanse the skin effectively without giving behind any greasing material. As Water has the hydrating nature, so it is the perfect makeup remover for dry and sensitive skin. Cleansing Water also work great on other type of skin as well.
Cream Cleanser Makeup Remover: cream Cleanser is thick in consistency due to which it can remove the toughest makeup at all. The cream cleanser is formulated to give the smooth and moisturized skin without letting the skin dry. It is used on heavy makeup especially on dry skin.
How to Use Makeup Remover:
Direction to use Eye Makeup Remover:
Take a cotton swab and saturate it with Eye Makeup Remover.
You can combine the Eye Makeup remover with cleansing water to get soothing effect, it is best for heavy eye makeup removal.
For waterproof cosmetic like liner and mascara, use the oil based cleanser so it will dissolve the makeup without scrubbing or pulling.
Hold the saturated cotton swab for few seconds on eyes and apply pressure gently and let the Makeup Remover dissolve the makeup from eyes. It will allow you to remove makeup with minimum rubbing.
Remove the makeup while moving the cotton downward. With the help of finger tip, apply little pressure on your eyebrows and slightly pull up while sweeping down the other hand.
Use clean side of cotton pad to remove makeup underneath the lashes.
Direction to use Face Makeup Remover:
Apply the face makeup remove in quarter sized amount and start massaging in circular motion. With the help of your finger, spread the makeup remover all over the face.
Always remove Liquid Foundation and last longer makeup before washing your face.
Use water soluble formula of makeup remover that will not left behind any residue.
Long-lasting or liquid foundation should be removed before you wash your face.
To remove the makeup remover, use sponge or washcloths to wipe the face.
Direction to use Lip Makeup Remover:
With the help of your finger, spread thick layer of lip makeup remover
Leave it for some minutes about 5 minutes. The oil in Lip Makeup Remover dissolves the lipstick and leave moisture on your lips.
Hold the cotton pad on your lips for 10 seconds and then wipe lip makeup by moving the cotton pad in circular motion.
Repeat the process if there is some residue left behind.
Try to exfoliate and moisturize the lips afterward for getting healthy and soft lips.
Top Brands of Makeup Removers Available in Pakistan:
You can get your ideal easy Makeup Remover at your home. Visit our site for buying best brand of makeup remover for eyes, face and lips in very reasonable price. We will import that original branded cosmetic product from Amazon online Shopping in Pakistan for you so you can now facilitate with Amazon shopping in Pakistan.