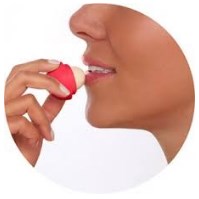 Lip balm increases the natural beauty of the lips, enhance the lips and makes them soft and pink. The way of having naturally attractive pink lips is to the lip balm. They have the moisturizer and nourishment for the lips to repair them and make them prettier. There is nothing beautiful than a smile that you can wear and a bright smile with fresh looking soft pink lips is extremely charming. Dry and darker lips impact the face beauty negatively. Pigmented lips are usually caused by dehydration, harsh weather, using low quality cosmetics, and smoking, not removing lipstick before going to bed and stress and improper diet. Using more fruits and vegetables, drinking adequate water and removing makeup will prevent lips from dryness and getting dark.
For soft and pink lips naturally
High quality and best lip balm is the solution to the problem and the best way to get soft and beautiful lips at home. A good lip balm has SPF in it protect them for any kind of damage. The best way to apply it is; after scrubbing lips with sugar scrub. Do it before you go to bed and leave it overnight. Try to use less dark shades lipsticks and often use rose water to make the lips soft and pink. This article will guide you for the selection of best lip balms to buy from the wide range of collection in the market. Pick the one of them and put in your purse to avoid chapped lips.
Eliminating the dead cells is essential for the proper lip treatment and Sugar Lip Polish is best for the repairing and exfoliating. The lip therapy with natural ingredients is best to take care of the lips.
Best Brands for Lip Balm in Pakistan
What should be in the best lip balm?
The best and advanced lip therapy lip balm should have the right moisturizer and SPF in it. A little tint of color is cool but being fragrance free and colorless is great. Some best lip balms have Jojoba Oil, Shea butter, and vitamins to lock the moisture and keeping the lips attractive and beautiful. Natural ingredients and soothing nourishment with a pinch of gloss is what a lip balm has.
Best lip balms in Pakistan
Premium in quality and by the best brands lip balms are easily available for online shopping in Pakistan. You can go for the one from the list below that caters the bestselling and top reviews lip balms.
Burt Bee's Lip Balm
Neutrogena Revitalizing Lip Balm
Aquaphor Lip Repair
Mac Lip Balm
Vaseline Lip Therapy
Nivea Lip Balm
Maybelline baby Lips Lip Balm
EOS smooth lip balm
Kiehl's Lip Balm #1