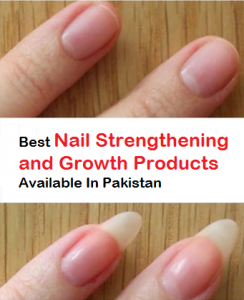 Nails are exposed to so many chemicals and stresses such as harsh detergents, nail polishes etc. so they require special extra care and treatment. To treat the nail problem correctly, you have to find your nail type and nail damage first. The most common nail type and related problems that can be treated by our nail treatment collection are; ridged nails, easily breakable nail, weak nails, peeling nails, brittle nails, dry nails, and soft nails. Some of the common nail types are described below for your guidance to choose and find the correct nail treatment accordingly.
TYPE OF NAILS:
Soft Fingernail: Soft nails usually have slow growth and they are easily bendable and pliable with a light touch. The treatment requires by this type of nails are the hardening and strengthening of nails that can be achieved by many nail treatment product available here. The simple tips for soft nails are: prevent nails hydration by wearing gloves for doing any work, do not expose your nails with strong chemicals for longer time, use nail treatment and nail nourishing products that toughen your nails.
Weak and Brittle Fingernails: The super dehydrated nails that easily crack and break are the weak and brittle nails. The hardening nail treatment product should not be used on weak or brittle nails instead the moisture containing nail treatment should be used on that nails which revitalize the dry nails. The tip for weak and brittle nails is; you should file your nails into oval shape as the rounded top can absorb the shock better.
Dry And Lifeless Fingernails: The rough textured nails surface is the sign of lifelessness and dryness of nails. The nail treatment product having vitamin E is the best nail care product that repairs your nails and the antioxidants can protect the nails from further damage. Tips for dry and lifeless nails are: avoid the nail polishes having pearls and shimmers as they leave the dry cuticle, coat a moisturizing base on nails for prevention from dryness, select liquid soap for hands washing as bar soaps have sulfate and sodium that dry out the nails.
Damaged Fingernails: Extreme dehydration can initiate the cracking, flaking, and peeling of nails and nails get damaged. The damaged nails should apply the cuticle treatment nail care products that contain the essential oils which give the strengthening to nails and make them strong and beautiful.
Natural and Healthy Fingernails: The lucky persons that have shiny, healthy pink nails also require the nail care products to keep the nails healthy and prevent the nails from any nail infections. The nail care products and manicure products keep the nails healthy and you can buy these products from here.
BEST NAIL TREATMENT PRODUCTS:
Nail Savers: Nail savers are the protection accessory for nails that can protect the nails from UV radiations and for a manicure. Nail savers are reusable covering of nails that are comes in various sizes for best fitting while making your nails more attractive.
Anti-Fungal Nail Treatment: The fungal infection on nails is the common problem so the dermatologist recommends the anti-fungal nail treatment products. Anti fungal nail treatment products contains Lauric acid which restore the nail damage that are caused by any fungus. All anti fungal nail treatment product's ingredients are verified and approved by FDA. These nail treatment product also have plant extracts and oils such as coconut oil that have high penetrating property to remove any cuticle infection while restoring the nail.
Cover Powder: Cover powder is the acrylic nail treatment system that is specialized to solve the nail problems. It is made with a liquid monomer which is already famous for its quality nail treatment.  It is simply applied as acrylic nail color and it will give the satisfied result as it treat damaged nails effectively and give quick and instant result.
Liquid Monomer: Liquid monomer is the professional way to get the strengthened nail with the stabilized color. Liquid monomer is usually used with blended advance EMA monomer. Liquid monomers are formulated with self leveling polymer, low odor and with no yellowing formula that give charity and strength to nails.
Nail Rejuvenation Complexes Or Nail Strengthener: The unique protein complex nail product that can provide the hydration to your nails with the best ingredients like Aloe Gels, Jojoba oils and Vitamin E. The ingredients boost the flexibility of nails and nourish the cuticles.  This nail treatment product is best for the dry nails. The best nail strengtheners are: Barielle Nail Strengthener Cream, Formula X strengthener, Hard as Hoof Nail Strengthening Cream, O.P.I. Nail Envy Nail Strengthener for Healthy Maintenance and many more.
Nail Treatment Product for Nail Recovery: It can restore the break and cracked areas of nails with their moisturizing content with protein KSW, H2O and calcium which help in enhancement of growth and flexibility. It is best for brittle nails that are experiencing cracks and breakage. The best products for nail recovery are Jessica recovery, Perfect Formula Nail Essentials Duo, and many more.
Nail Treatment Product To Enhance The Nail Growth: The products for nail boosting nail growth have organic ingredients like chamomile extract, Shea butter, pomegranate seed oil and vitamin C and E. these ingredients make them effective for enhancing the nail growth up to 100 percents. The famous nail treatment products for enhancing nail growth are Weleda Nail Care Pen, High potency Biotin, Nutra Nail 5 to 7 Day Growth Calcium Formula and many more.
All the products introduced to cure and treat the nail diseases and problems are developed by specialized aroma therapists and natural healthcare specialist. Nail treatment products are also available in kits that have full-fledged treatment product which give the professional treatment feel as it boost the growth, give strength, and smoothen and give perfect nails. All of these products are available here from Amazon Online shopping by importation in Pakistan in a reasonable price.
Best brands of nail treatment products available in Pakistan:
Visit our site for buying best nail treatment product as we have amazing collection of nail treatment product of top brands that we import from Amazon Online Shopping in Pakistan for you.