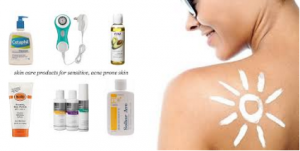 Sun radiations have some advantages and some disadvantages. Sun can provide the Vitamin D but it can also harm our skin from UV rays that can put your skin on risk of sun burn or sun spots and even on worse conditions it may also cause skin cancer.
The protection of skin from the harmful sun radiations becomes an essentials skincare need. There are specialized skincare products for protecting the skin from sun rays and these are known as Sunscreens. Sunscreen or Sun cream or SunBlocks are come in creams, sprays, lotions or gel form that can protect the skin from harmful UV radiations even these are also available with various additional features such as protection from dryness, acne, pigmentation and aging. Always choose the right Sunscreen that is capable of protecting your skin from UVA and UVB rays of sun. SPF in Sunscreen can block the UVB radiations that may cause skin problems like cancer and for UVA that may cause initiate the premature aging can be block with the sunscreen having avobenzone, sulisobenzone, ecamsule, titanium dioxide, oxybenzone or zinc oxide content. Choose the sunscreen according to your skin type, product function, and your skin issue. The perfect Sunscreen for you is available here from Amazon. We will guide you in selecting the correct Sunscreen for your skin. Read and Follow this article and purchase the best imported Sunscreen and SPF Products from here.
Best Sunscreens for your skin:
Matte Finish and lightweight Sunscreen Spray: The multiple layers and stickiness of Sunscreen creams or lotions is most annoying thing so the sprays are available with minimal and negligible that sticky feeling. These sprays are formulated with broad spectrum of SPF 30 that can work on your skin effectively without any need of reapplication. The best brand and sunscreen product with these features is Banana Boat Dry Balance Sunscreen Clear Ultra Mist SPF 30.
Sunscreen with bronzer: There are sunscreens available that have the dry oil SPF that can protect and instantly give bronze glow on your skin. These sunscreens may give up to SPF 50 Protection and gradually tan your skin. The best brand and Sunscreen product with these features is Vita Liberata Self Tan Dry Oil SPF 50.
Sunscreens for makeup preparation: Many people do not want a layer of sunscreen under their foundation or primer but it become necessary for the protection of your skin. There are Sunscreens or primers with SPF content that can give perfect glam look daily as it can give non greasy and clear finish. The best brand and Sunscreen product with these features is Coola Dawn Patrol Classic Makeup Primer SPF 30.
Sunscreens for sensitive skin: The sensitive skin requires a mild Sunblocks that can protect their skin from UVA and UVB without giving any harsh reaction. Sunscreens with Natural SPF are best for sensitive skin as it is actually free from chemicals. Natural SPF sunscreens contain zinc oxide, red raspberry seed, carrot seed oil and avocado oil. These ingredients hydrate the skin and sunscreen the skin while the antioxidants like Vitamin C and E with Ferulic Acid prevent the premature aging. Sensitive Skin should use the Sunscreen that is free from fragrance, dyes and colors. The best brands and Sunscreen products with these features are Mad Hippie 30+ Zinc Oxide Facial SPF, Neutrogena Sheer Zinc Dry-Touch Sunscreen Broad Spectrum SPF 30
Sunscreens for Acne: Sunscreens are available here that is designed for acne skin as it is oil free and has non-comedogenic that contains silica and perlite which effectively absorbs the 250% oil and sweats and minimize the breakouts probability while protecting the skin from harmful radiations of the sun. The best brand and Sunscreen product with these features is LaRoche Posay Anthelios Clear Skin SPF 60
Sunscreen for Daily Protection: The sunscreen that fights with fine lines, dehydration and signs of aging with protecting your skin from UV rays is perfect for daily usage. The Vitamin B3, amino peptides and the oil free formula makes the sunscreen perfect. The best brand and Sunscreen product with these features is Olay Regenerist Micro-Sculpting Cream SPF 30
Best Anti-Aging SPF
There are specialized Skincare products available that can minimize and treat the aging while protecting your skin from harmful Sunrays. The SPF broad spectrum formula of these skincare products can protect the skin from UVA/UVB rays effectively. The special ingredients of those creams are Glycolic acid, retinol and vitamin C. The best brand and Sunscreen product with these features is L'Oreal Paris Revitalift Bright Reveal Brightening Day Moisturizer SPF 30 and La Roche Posay Anti-Aging Sunscreen.
Tips for wearing Sunscreens:
Apply the sunscreen on all exposed part of your body 15 to 30 minutes before going out in sun.
Do not skip the patches and parts that are also exposed to the sun such as, ear, back of your neck, feet etc.
Reapply the sunscreen at least on every 2 hours.
Always check the Expiration date of sunscreen before using it.
Wear the sunscreen even it is not too sunny day, cloudy day also has some UV radiations that can give harm to your skin.
Best brands of sunscreens available in Pakistan:
All the featured brands of Sunscreens are available in Pakistan through importation from Amazon Online Shopping. The perfect and best collection Sunscreen products are exclusively available in this summer. Now you can enjoy the summer without worrying about sunburns and sun spots. Purchase the sunscreen while staying at your home with our best online shopping service in Pakistan. Place your order now and get that sunscreen at your door step in minimum duration of time and in an affordable price.