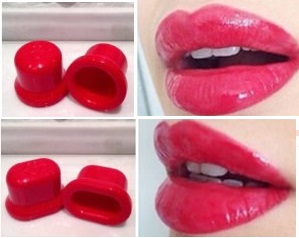 Lip enhancement has been taken the industry of beauty and that bigger pout becomes the trendiest look for every girl.  Earlier, this enhancement procedure was so painful by the use of pointed needles, used for magnifying the pout. Injectables are really expensive. Then an alternative comes as lip plumbing tools and products.
The lip Plumping tools include the plastic suction caps which is used to enhance the lip line and added the volume to your lips to get desired look. The better result can be obtained by following these steps to use lip plumping tools. Wet your lips and surroundings as the wet area provide better suction. Place the lip enhancer on lips and suck the air as you would drink through the straw. Let it allow to form air sealed cavity inside the cup, it is felt that your lips are pulling gently into the enhancer. Do gentle suction only as hard suction is not always necessary, it may cause bruising. Let it set for 10-30 seconds and check in between the results and get your desired lips. You do not need to pull the enhancer cap, when you roll your tongue back into your mouth, the cap would automatically fall off.
The Lip Plumping tools are found in 3 different sizes; large round, medium oval, and small oval. The overall lip fullness can be obtained by the use of large round size, it is not recommended for the specifically targeting area. 2nd medium oval lip plumper is used in small or medium thin lips; it can be use vertically or horizontally. It can target only one lip, as some people has thinner upper lip and fuller lower lip, this lip plumper is best for those. The small oval lip plumper is used to target certain area like the mid of the lips (Lip's area of Cupid's bow). Small oval Lip plumper is best for thinner lips it may be used vertically.
The lip plumping results will last long for 1-4 hours and it may vary from woman to woman depending in many factors. The major factors are time and practice. You would take a month to figure it out the best way to get faster, easier and long lasting effect. By practicing, it will get easier to attain your desired result. Start this plumping tool gently, as the hard suction cause bruising
Tips for using lip plumping tool:
Always clean your lip plumper prior to every use with liquid soap and water.
Exfoliate the lips before plumping for better result.
Moisturize the skin of lips and surrounding for establishing better suction
Let the lips feel relax into the lip plumper, do not suck hard.
Apply lipstick or lip gloss and let your lips hydrated. Avoid Matte Lipstick as it has the drying agent.
You can re-plump your lips after every 3-4 hour for whole day classy look.
Do not share with other this every day item.
If you have taken the injection procedure or other medication issues, you should use this with doctor's consultation.
Lip Plumping Products are available in different packaging, as gel in tube with wand applicator, oil in bottle with dropper and plumping balm in palette. The lip plumping products contains all natural ingredients such as extracts of cinnamon, capsaicin (hot pepper) and methanol. This ingredient formula of lip plumping products causes the blood flow fast for swollen lips. Caffeine is also an ingredient with vitamin B content for vasodilation properties. This spicy formula of Lip Plumper can boost the lips to enhance and swollen to give that perfect pout. The levels of these ingredients are low in concentration that's way they are safe to use as it is already tested and approved to be non irritant formula.
Benefits of Lip Plumpers:
The Lip Plumping tool is an ingenious, manual lip enhancer originated by Chinese technology of cupping. This technology can contour and shape the lips without any use of needle and injection. The engineered cup makes the lips beautiful and smooth. It is easy and fun to use at anywhere, on anytime.
Lip Plumpers are introduced to enhance the lip shape and reduce the aging of lips. If your lips are thin, asymmetrical, experiencing drooping of cupid's Bows and mouth's corner then you should try this new plumping method over painful injections procedure.
If you require cute and younger pout for dramatic celebrity look and for perfect selfie, you should use lip plumper. Lip plumper can give you fully different look in one trial.
Top brands of lip Plumpers:
Fullips Lip Plumping Enhancer is available in 3 sizes; large, medium and small. It is the self suction cup of lips which can enhance and give fuller look to lips. A Bruch is also available with it for better exfoliation. It can stay for 1-4 hours. Be aware from Chinese version as it may contain arsenic and lead.
Grandelash introduces Grande Lips Collagen Boosting Lip Plumper. It comes in gloss like packaging for better application. This can give instant plumping of lips within 3-5 minutes.
Too Faced Cosmetics introduces Lip Injection Extreme which can plump the lips 40% by collagen boosting formula and reduces the fine lines of lips 30% with locking the moisture on lips 60%. It is formulated by jojoba and Avocado oil which hydrates, soothes and moisturize the lips.
NYX introduces the Pump it up Lip Plumper to give injection free, luscious lips. This lip plumper comes in 5 colors. With one coat of lip plumper you can transform from dab to fab as it boost your lips and give that celebrity look.
Anself introduces the Lip Plumper which causes the lips to Enlarge Naturally and gives Fuller Thicker trendy Lips. It is the quick, painless way to get the desired lips shape.
All featured brands of the Lip Plumpers are available through Amazon shopping in Pakistan. All of the products are best in their own way. Grab yours lip plumper through placing an order and get that lip plumper at your door step.