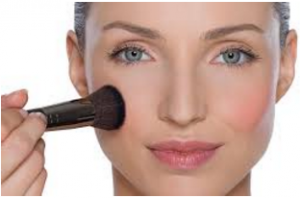 Blush is the most effective cosmetic product which could change the whole look with just a pinch of blush. The younger, healthier and dewier look is the most desired by every woman, simultaneously, it is the most confusing and tricky for many blush users. Here is the way to get the surprisingly versatile and super flattering look by working according to your shape of face, skin complexion and life style.
Right blush color according to skin tone.
The toughest challenge in doing makeup is to choose right color for blushing. Wrong color of blush can spoil the whole look of a woman. Blush should be according to your skin tone, although there are many gorgeous colors of blush but you have to pick right one which suits great on your complexion. Correct amount of blush application is also important for healthy and natural looks. Heavy application gives the clownish look and light application of blush can wash off easily. We can distinguish the skin tones into 3 groups of skin complexion; fair, medium and dark skin. This can help you to find out the category you fall on and you can choose the right blush color accordingly.
Fair skin tone: for fairer, light or porcelain skin tone, lighter color of blush is better. The preferred color of blush for fairer skin tone is Blind Date, Cherish, Promise Ring, Secret Admirer, Main Squeeze, Heart Throb, Bliss, and Love Letter. All of these shades are available here from Amazon shopping in Pakistan.
Medium Skin tone: the most common skin tone in Asian countries is medium, almost 80% women fall in this category. The recommended shades for the women of this category are; Infatuation, Soulmate, Romance, Rendezvous, XOXO, Puppy Love and Valentine
Dark skin tones: for the woman with warm complexion, the deep shades of orange, red and purple suits a lot. The best shades for dark skin complexion women are; Chivalry, Summer Fling, Desire and Covet.
Right way to apply blush
Angled brush is used to apply blush. Always tap off excess blush powder and apply the shade of blush on your cheek bones. You can find the cheek bone by sucking the cheeks in. The bone of the cheeks gets defined and you can apply it correctly.
Tips
Shape of the cheek bones is the most important feature to be trace in blush application. you should apply the technique according to your face shape.
Do not blot your blush with face powder; it will give the dull look. You can blot the blush with tissue paper by holding tissue on cheeks and pressing the makeup sponge on it.
Always choose that blush which suits on your skin tone. Light toned skin woman should go with light pink shade of blush, medium tones skin woman should go with bright colors like apricot color, it will give radiant to cheeks, the dark tone skin woman should go with cranberry like shades or bright apricot shade.
Do not use shimmer if you have chubby cheeks or uneven skin like have pimples or large pores. It will give the uneven luminous look.
Blush is the multi-purpose cosmetic product as it can be used on eye lids, on lips to give your desired color.
Use the primer on face to get long lasting blush color.
Choose the correct blush for your face. The powder blush works excellently on woman having large facial pores. The cream blush will give long lasting finish. Gel blush are preferred for summer season as they make the skin glows without being oily. Stain blushes has higher staying power and it can give the dewy look.
You can mix the blush with bronzer and highlighter to give the contoured cheeks. Blending is most important in this regard. You just have to blend, so no harsh line can appear; as there is different cosmetic products of different colors are involved.
Coat the powder blush on the gel or cream blush for increasing their staying power
If you have applied intense shade of blush or darker stroke has applied, then minimize it with foundation.
You can apply the blush in hurry with a dot of lipstick. But darker shade of lipstick can create blotchy appearance.
Top Brands of Blushes:
NARS Blush has so magnificent colors; you can take it as platonic ideal blushes. They can give the un-imaginary finish that can stay for longer time. Blushes of NARS have the most efficient formula through which it can easily blend and give the natural look of blushing. Try it for getting the gorgeous and glamorous look.
MAC Mineralize Blush is the classy blush color with shimmering effect. There is the vast variety of shade of blush in this brand but you just choose according to your face tone.
Revlon introduces Photo ready Sculpting Blush Palette. This palette of blush contain variety of shades, even you can contour and highlight your face features with these blushes. These are really amazing blush with multi-purpose features that will not give just powdery feel, it will give you the awesome matte finish look.
Boots No.7 Natural Blush Tint Powder is the exceptional pigmented blush that can give color to your cheeks.
Bare mineral has a natural formulated blush that can give the natural glow on your cheeks in an affordable price. This blush is suitable for all type of skin even ache prone skin could also use this blush.
Lancôme is the another top brand of all time which provide oil free brushes in variety of colors that will suits on every type of skin.
Dior Product has some amazing shades of blushes with shimmering effect that can give glamorous look in one touch.
Cargo has the moist powder blushes that blend and adjust easily on every type of skin with longer staying power.
Stila has the creamy blushes which suits on dry skin type. It gives the translucent effect at first but the shine of the cheeks overwhelm and attract anyone.
All of these brands of blushes with various shades and tools are available here from Amazon online Shopping Pakistan. Choose your most suited shade and order it now. Enjoy this season with the glamorous look.