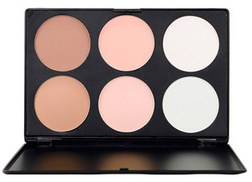 Contoured and slim face is the most demanding look in this era of fashion. For providing tan and brightness on face, Bronzers and highlighters are used. Bronzers are used to give the tanned and glowing skin in one touch. Bronzer complements the blush and illuminators. Bronzers give the shadowing effect on direct sun hit areas of face like forehead, cheeks and nose. To complement the Bronzer and the tanning effect on face, highlighter should be use with bronzer. Highlighter is simply the lighter shade that adds the lightning effect on face features. Highlighters are usually applied on raised features of the face such as below the bone of brows, on edge of the chin, bridge of the nose and above the cheekbones. Bronzers and highlighters work in combination and give the glamorous contoured face. Highlighters and bronzers contain shimmer particles that will give the shimmering, sun kissed and glowing face at a time. Highlighters and Bronzers are available in different forms such as in Liquid, spray, stick, oil, cream and lotion. Bronzers and highlighters are also available as a contour kit that kit contains the single set of highlighter and bronzer or a variety of shades of highlighters and bronzers. All of the bronzers and highlighter products of top brands are available from Amazon Shopping in Pakistan.
Right Bronzer for you:
Bronzer is used for the imitation of sun tan naturally on face but this result is only achieved if it is applied on face correctly. A minor mistake or over coat of bronzer can leads to the muddy and dirty look. Bronzer can make the shape of face thinner. The round shape face can become defined if bronzer is used in correct way. One of the main steps in using bronzer is the selection of bronzer color that should be according to your skin tone. Always pick the color of bronzer that is two shades darker than your skin tone. Always test prior on your face skin to confirm that it gives the warm shade without giving fake tanning. Honey color of bronzer is preferred for fairer complexion. Gold flecked and rose colors of bronzer are preferred for the medium skin complexion as most of the Pakistani women have medium tone complexion. Amber and tawny colors of bronze are preferred for war, or dark skin complexion. For winter season, choose two separate shades of bronzer for diminishing the pale skin due to winter.
Right Highlighter for you:
Highlighters are the products that make the look so beautiful. Choosing the right shade of highlighter is the core step for highlighting correctly. Wrong selection and application of highlighter shade can give the weird and alien like look. To choose highlighter color, first take a look on your natural skin tone, if it is sallow; do not go with pink highlighter but you have the pale skin tone then pink suits you a lot. To select the best shade of highlighter, test the highlighter on your hand's back and blend it well. If it gives the smooth finish it is the right highlighter for you, if it sticks to your hand and give the over shinny look then try another highlighter.
How to use Bronzers and Highlighters
Correct way to use bronzer is very important to getting natural sun tanning effect and contouring.
Choose right shade of Bronzer according to your skin tone (two shades warmer than yours)
Apply the base or foundation on your face entirely.
Apply the powder or pressed powder bronzer with brush, stick with finger or directly, liquid or lotion with finger or with wand applicator.
The targeted areas for bronzing should be jaw line, cheekbones and forehead. Bronzer should be applied in figure "3". Starts from the forehead, goes to cheekbones and ended at jaw line. This application would appear as figure 3 on each side of face.
Always apply bronzer lightly and blend well for natural tanning effect.
Highlighter is the next step to complete this glowing and contouring of face. You can use it on different areas of face.
You can make your eyes bigger by applying the highlighter on the brow bones. By highlighting the crease of eye lid, illusion of larger eye has been achieved.
Apply a dot of highlighter over the blush on apple of cheeks. It will give the more contoured and glowing look.
For giving the illusion of slimmer nose, apply the highlighter on the bridge of nose and blend it with foundation, and bronzer.
You can also apply it on inner corner of eyes to give the awaken eyes look. It is the oldest trick for making eyes brightens.
Apply diagonally along the bone of cheeks like from under eyes toward the hairline.
You can also give the clean look to your lips makeup by applying highlighter on Cupid's bow.
You can also apply the highlighter on eyelid's center. This will gives awake and bigger look to your eyes.
You can also mix the highlighter with moisturizer for over all glowing look for everyday.
Best Bronzers and highlighters brands in Pakistan:
Anastasia Beverly Hills introduces the Contour Cream Kit. This contouring kit includes the 3 highlighter and 3 bronzer shades. The best thing in this kit is; all the common shade is available for fairer to darker skin tone.
Smashbox introduces the shape natters Palette for the beginners as this kit include all the products required to contour the face. It can contour all the basic features that must be contour with efficient blending formula of it.
LORAC introduces the Pro Contour Palette that is designed by the famous makeup artist Carol Shaw. This kit includes 2 matte shades of highlighter and bronzer with additional shimmering effect. It is the perfect cosmetic product for transforming your look.
NYX Cosmetics introduces the Highlight & Contour Pro Palette that includes the 8 shades for your skin tone. These palettes are easily refillable and the most affordable contouring kit.
Urban Decay introduces Naked Flushed kit for the beginners. This kit contains 3 most important products of makeup; blush, highlighter, and bronzer.
Best feature brand of highlighters and bronzers area available here from Amazon Pakistan. Get your face sun kissed and shined by adding this kit in your makeup bag. Place your order for best experience of branded cosmetic products of bronzer and highlighter.