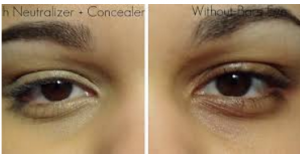 Neutralizer and Concealer Magical Makeup Product and How You Can Get the Best of them in Pakistan? The confidence is the real beauty of every woman, and flawless skin contributes in their confidence. Cosmeticians introduce a magical product that can hide all the flaws and spots from the face. These products are concealer and neutralizer. Concealers are like the simple foundation but greater in opacity. It is basically 2 to 3 shades lighter than the shade of your base or foundation.
Concealer can hide the small flaws and camouflage the minor spots of face. Neutralizers found in different colors, which can correct the different type of flaws on face. The flaws that could be canceled out are: blemishes, ache spots, dark spots, dark circles, puffiness, redness, aging and sun tanned spots. Concealers come in different form such as; in stick formulation, in sheer liquid, in creamy texture. The Neutralizers come in set palettes which includes the basic colors of neutralizers. It is also found in individual color tube or palette.
How the Neutralizer and concealer create Magic:
Concealers and neutralizers are designed to overtake and cancel the imperfections of the skin such as discoloration, hyper-pigmentation, dark spots, scars, acne etc.
The concealer can easily and effectively hide the discoloration on the face, either it is from sun tanning or allergy.
As the intensity of imperfection increases neutralizers take the place of concealer because colored neutralizers are specially formulated to tackle these types of tricky flaws. It is important to choose the right neutralizer for getting perfect look. When the discoloration or problem is so extreme then darker hue of neutralizer will be used. When you have lighter discoloration, the softer hue of neutralizer will be used. For guidelines we enlisted the common neutralizers and its working on different imperfections signs.
Green Colored Neutralizer corrects the redness of rashes, birthmarks, skin sensitivities etc. The most common, problems of youngsters are acne and acne marks, green color corrector is the magical cosmetic product that can disappear these flaws. Do not coat too much concealer or corrector on the affected area.
Yellow Color Neutralizer is used on mild red or pink colored spots. If you do not have extreme redness on face, preferred to use yellow instead of green color neutralizer. You can fix the redness due to mild sensitivity and broken capillaries that could be around mouth and nose.
Pink Color Neutralizers are used to camouflage mild green hues, yellow hues, olive hue and sallow skin.
Orange and Peach Color Neutralizers are used for the dark spots as it can hide the blue color of dark circles, dark coloration of aging, sun tanning and can also brighten the darker skin complexion. Orange neutralizers are for intense discoloration and peach neutralizers are used on mild discoloration. You can also use the peach color neutralizer under the eye for getting fresh look.
Purple, Violet and Blue Color Neutralizers are used on orange and yellow hues of face, hide dark circles, suntanned skin and camouflage hyper-pigmentation.
Basic color correcting Rules:
The skin tone is very important factor that play a very dominant part in choosing any cosmetic product. Everyone has their own undertone and color complexion and it is difficult to do experiment and choose wrong cosmetic. Similarly, for concealer or neutralizer selection, there is also a link of skin tone. There are some basic rules for selecting color corrector for your face. These are as under:
On beige skin complexion and green or blue undertone, yellow color neutralizer will correct the blue hue of face and pink color neutralizer will correct the green hue.
On brown complexion and gray or blue undertones, peach and orange color neutralizers will work well.
On yellow skin complexion, lilac or violet color neutralizer will correct that yellow hues.
Apply the concealer or neutralizer same as foundation application. You can apply concealer or neutralizer with fingers or brush.
Do not take out the concealer or neutralizer with your fingers directly due to the chance of contamination. Use the cotton swan or spatula for this purpose.
Do not apply concealer or neutralizer in large amount, small drop or dot is enough for camouflaging of imperfections.
You can blend and spread the drop of concealer or neutralizer with makeup sponge or fingertips. Fingertips are better to be used for concealer or neutralizer as it will warm the skin and help the concealer or neutralizer in blending and melting into the skin
Do not use dry Concealers or Neutralizers on any type of skin even the oily skin as the dry products are difficult to blend.
How to apply Concealers and Neutralizers
Application of concealer or neutralizer before or after the base or foundation is depending on the intensity of flaws hue. If you have the light colored hue or soft imperfection mark then mix the soft color of neutralizer or concealer with foundation and adjust it with the desired skin complexion. For extreme intensity of imperfection, apply the colored neutralizer first on hue or dark spot then apply the foundation on that area by gently patting with fingertips. The best foundation to cover the colored neutralizer is the cream or liquid foundation. Cream or liquid foundation can be applied by patting and does not cause the blending and smudging of concealer or neutralizer.
Top Brands of Concealers and Neutralizers in Pakistan:
Now Pakistan has also facilitated by the Amazon Shopping and can get all the imported and Branded Concealers and Neutralizers. All the top brands of Concealers and Neutralizers are as follows:
If you are searching the best concealer to hide the imperfections of face then your search is over, visit our shopping site and get your desire product of Concealers and Neutralizer at your door step. So what are you waiting for? Place the order and enjoy the flawless skin.