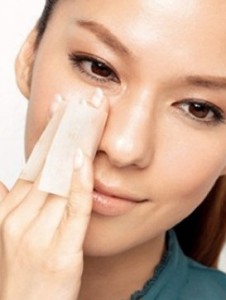 Are you familiar with the blotting paper? If no, then this article will help you. Blotting paper is the important cosmetic tool which should be present in your bag. Blotting paper is the special type of paper with absorbent property. As the blotting paper is the great absorber of oil or sweat, it becomes the most important item in bag especially in summer day. Blotting Papers are the portable sheets; you can carry it with you during any travelling. Blotting paper can remove the oil and sweat without affecting shine and smudging off the makeup. Blotting Paper contains the Polypropylene (the super absorber) and Mineral Oil (nourish the skin).
Blotting Paper for Oily Skin:
The most irritation and upsetting situation is oily skin which distorts whole makeup and look and get us embarrassed in public. Now you can get rid of this irritating spoiler of your look with only simple absorber, the Blotting Paper. If oil on the skin get unattended by you, then it could create the skin issue such as, it will clog the facial pores, mix with your makeup and also contaminate the cosmetic product. Blotting Paper is the best tool to control this problem. When you are going for work, studies or for night party, the only desired thing you want at that time is the matte finished look for whole day or event. At that time, the only addition in your bag is Blotting Paper. When the primers or other cosmetic item is out of your range but you want to get rid from that shiny look of look then blotting paper is the cheapest alternative of any other expensive oil controlling cosmetic.
Why you should use blotting paper instead of Tissue Paper or Wet Wipes:
Women may use the tissue paper as oil absorbing paper; they never know that tissue paper smudged off the larger portion of their makeup wide even mild wiping. Then it is the hardest thing to wash entire face and re apply the makeup for getting fresh and natural look. At that time, blotting paper plays the most essential role to absorb all the excess oil from face and give fresh look again.
Women may also use wet wipes for oil removal from face. Wet wipe do not only remove oil from the face, it also remove all the makeup. Wet wipes give the same result as the washing your face. Wet wipes are mostly alcohol base so it ends up wiping all the makeup and gives the harsh skin.
How to Use Blotting Papers:
Blotting paper is thin, soft and oil proof in texture so it is easy to use. The correct way to remove oil without disturbing makeup is as follow:
Grab your handy Blotting Paper pack from your bag and pull out one blotting paper.
Start dabbing of blotting paper firmly against your shinny area of faces, where oil may get accumulated. The oil prone areas of face are mostly in T Shape, that is, area of forehead, nose and chin. Press a blotting paper on hold it for few second and allow the oil to get absorb in blotting paper.
Do not rub the blotting Paper on your face. The equation to get correct blotting of oil is press and pull. Just dab on skin then pull away from skin.
If it is needed, use new blotting paper to blot oil from another area of face.
The used blotting sheet should be disposed off as it is not reusable
Always clean with clear side of blotting paper for each area of face, as blotting paper gets transparent when it absorbs the facial oil.
The difference in your face can be easily noticed by you because the shine of facial oil get gone from face, only matte finish look left behind.
A large amount of blotting papers are come in one pack, you can use it similarly at any time and any place, when you think that there is a need to blot the facial oil. All the famous and original brands of blotting paper are available here from Amazon Shopping in Pakistan.
Top Brands of Blotting Paper:
All of these blotting papers of top brands are available in different types according to various skin types. You just have to order your type of blotting paper from Amazon Shopping in Pakistan and fit those handy blotting papers in your bag or pocket. The only thing left is to say bye-bye to your facial oil so hurry up and place your order.