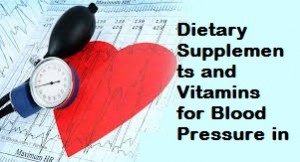 High blood pressure or hypertension is the most common disease of this era. The common symptoms experienced by the person having high blood pressure are; headache, nosebleed and shortness of breath but these symptoms appear on a severe condition. Normal range of blood pressure is 120/80, between 120/80 and 139/89 Blood pressure is called pre-hypertension and above 140/90 is considered as high blood pressure or hypertension which would be dangerous. There are many complications come with high blood pressure such as kidney disease, heart stroke, eye damage, hardening of arteries and brain stroke. It is important to monitor your blood pressure regularly, take targeted blood pressure supplements, balancing your diet, and improve your lifestyle.
Blood Pressure Monitor:
Blood Pressure is measured by sphygmomanometer which is the blood pressure cuff. Blood pressure is measures in millimeters of mercury. There are two types of blood pressures meters; automatic and manual.
Automatic blood pressure meter is the best one as any lay man can measure their blood pressure at home with ease. Automatic Blood Pressure Meter is a digital or electronic monitor that has a microphone which detects that pulse of blood in the artery. Automatic blood pressure meter are of three types; cuff monitor, wrist monitor and finger blood pressure monitor. It is recommended to use arm cuff monitor as it will give more accurate reading. The bestselling Automatic Blood Pressure Meters are Greater Goods Balance Blood Pressure Monitor Kit, Dr.meter Automatic Upper Arm Blood Pressure Monitor and Preup Wrist Blood Pressure Monitor.
Best Dietary Supplements for Maintaining Blood Pressure:
Nutrient Supplement support can work excellently in controlling and maintaining your high blood pressure. The top best dietary supplements for blood pressure support are Coenzyme Q10, Garlic, Magnesium, Potassium, and Vitamin E and Iron.
Vitamin E and Iron: Vitamin E and iron are the two most effective nutrients that help lower high blood pressure level as iron improves the blood's ability to carry oxygen and vitamin E helps the heart muscles to effectively use the blood so in combination these nutrients lower down the level of effort required by the heart. It is recommended by the physicians that vitamin E should not be taken higher than 50-100 IU in amount daily and it should be taken after the meal. The bestselling supplements of Vitamin E and Iron are Solgar Vitamin E, Garden of Life Iron Complex and PreserVision AREDS 2 Vitamin & Mineral Supplement.
Best Blood Pressure Support Supplement
Tobias Blood Pressure Support Supplement has the combination of vitamins and herbs that can give anti-hypertensive effective and reduce the blood pressure level naturally.
Sigmaceutical Blood Pressure Support Formula contains the Hawthorne Berry extract, Garlic, Niacin, Olive Leaf Extract Uva Ursi, Buchu Leave and Juniper Berry. These natural ingredients are famous as the natural vasodilator so it widens the vessels and help in circulatory or heart problems and these ingredients also linked with hypertension reduction.
NOW Blood Pressure Health used the Grape Seed Extract to support the heath. Hawthorn and Flavonoids are also present in this supplement that can support the arterial function and maintain the blood pressure.
Natural Genetics Perfect Pressure is fortified with botanical extracts, vitamins and herbs that can support the health of heart and maintain the blood pressure level. It is the best supplement for cardiovascular support.
Tensegrity Pro Advanced Blood Pressure Support is used the benefits of passionflower that can effectively lower the blood pressure with the antioxidant edulilic acid present in it.
Featured brands of all the best dietary and support supplements are available on Amazon which are now offered by this best online shopping site of Pakistan. You can purchase the quality supplements for Blood Pressure control through this site. We import original and quality products from Amazon for you that are offered here in reasonable prices.