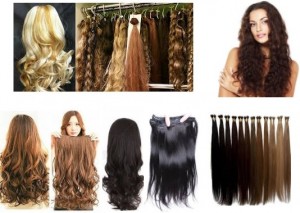 Women want to change their look for every occasion which can be easily and painlessly achieved by wearing hair wigs and extensions. Now it is not an issue of fake looking wigs and hair extensions as the most of the brands introduce the wigs and hair extensions of natural hairs which are found in every color of hairs. Hair wigs and hair extensions are used for getting different looks so before buying the hair wigs and hair extensions choose your looks that you want by wearing the Hair Wigs and Hair Extensions.   Hair Wigs and Hair Extensions are found for different styles such as ponytail extensions, wavy hair extensions, long straight hairs wigs and extensions, long hairs with curls and many more. There are different type of Hair Wigs and Hair Extensions available in Pakistan which is use to cover hair loss or fine hair look or create the new hairstyle and look. Natural looking Hair Wigs and Hair Extensions make women more confident about their look and all of these natural looking Hair Wigs and Hair Extensions are available here from Amazon Online Shopping in Pakistan.
Best Hair Wigs and Extension for Getting Desired Hair Look:
Clip-In Hair Extensions: Clip-in Hair extension is the best option for restyling your hairs for your special occasion. Clip-in Hair Extension is easy to wear extension that can perfectly match your hair color and give you the longer hairs. Clip-In Hair extensions can create the highlights, lowlights with adding volume to your thin hairs. Clip-in hair extensions are also available in multiple patches of various widths. You can easily clip-in the hair extension with in few minutes with minimum damage. Clip-in Hair extensions can be reused but it is not meant for daily use because you cannot wash them frequently. Use the Clip-in Hair extension only two times in a week and do not try to remove it without unsnapping the clips or by sliding them off from hairs.
How to Wear Clip-In Hair Extension:
Tape-In Hair Extensions: Tape-in Hair extensions are new trendy hair extension type which is becoming popular one. Tape-in Hair Extensions have 1 inch thin tape wefts that can get attached with your hairs. Tape-in Hair Extension is the professional hair extension which is used n salons worldwide. Tape-in Hair Extension can last for 3 days without any use of tools and chemicals. You can wear it within an hour without getting any hair damage. The best thing in Tape-in Hair Extensions is its reusability. To wear the Tape-in Hair Extensions, firstly section your thin hairs and remove the tape from the Tape-in Hair Extensions and place it under that sectioned hair, remember Tape-in Hair Extension should be close to your scalp. Then comb your hairs with the end of tail comb. Apply all the patches of Tape-in Hair extension on your all lined sections and comb in similar way. This Tape-in Hair Extension will last easily for 3 days unless you wash your hairs.
How to Wear Tape-In Hair Extension:
Lace Hair Wigs: Lace Wig can give the natural hairline on its wearing as the hairs are growing out of your scalp. Lace hair wigs are undetectable as it can trick your eyes and brain. There are 3 types of lace wigs such as lace front wig, full lace wig and Glue-less lace wig. Lace Frond wig has only the front laced hairline and its length can be altered according to your need. Full Lace wig has full laced cap of wig. Lace is of two type either it is French lace or Swiss lace. French lace wig is little bit detectable by naked eyes but it last for longer time. Swiss lace is completely is not noticed by human eye easily but the staying time of Swiss laced wig is smaller than French laced wig. Glue-less Lace wig has the front adjustable lace straps that can give the secure fit on your head without using any glue.
How to Wear Lace Front Wig:
How to Wear Full Lace Wig:
Tips To Take Care Of Hair Wigs And Hair Extensions:
Do regularly brush your hair wigs and hair extensions with soft bristle brush.
Avoid the brushing of hair wigs and hair extensions if they are wet,
Do not wash your hair wigs and hair extension more than 3 times in a week.
Keep them nourish with hair oil but avoid over loading of any product.
Wash the Hair Wigs and Hair extension with Sulfate free shampoo as sulfate can remove the natural hair oils and strips the hairs. There is no source of natural restoration of essential oil from scalp to the hair wigs and extensions so do not let your hair wigs to get dried out.
You can boost the shine of your wigs and hair extensions with simple adding two to three drop of dry oil like almond oil or coconut oil one time in a week.
Best Brands of Hair Wigs, Extensions and Accessories Available In Pakistan:
High quality brands and their products such as hair wigs, extensions and accessories are available in Pakistan by importation from Amazon Online Shopping for you. Our best collection and range of hair wigs, extensions and accessories will amaze you and you will definitely suggest this site to other. Amazon shopping is now available in Pakistan through our best Online Shopping site of Pakistan. Explore our site and pick the best hair wig and extension for you and place your order. The best quality hair wigs and extensions with all the related hair accessories are available in reasonable prices.