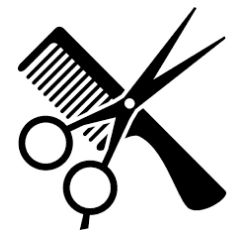 Professional Hair Cutting Tools are essential for grooming because you cannot get the professional hair cut without having the full range of hair cutting tools. We have an incredible range of hair cutting tool at our best online shopping site of Pakistan that is required by every hair cutting expert or even get you comfort at your home.
Scissors, shears and clippers are just enough, there are many more accessories which are required to give the perfect hair cut. The most required hair cutting tools are adjustable blade clipper, cordless clipper, Detachable blade clipper, Trimmer, hair cutting shear, hair cutting razor, straight razor, thinning shear and comb. Bestselling brands of these products are available in Pakistan by importation from Amazon Online Shopping.
Best Hair Cutting Tools to Give Perfect Haircut:
Adjustable Blade Clipper: Adjustable Blade clipper is made of aluminum and steel that makes this type of clipper the most durable one. Adjustable blade Clippers require proper oiling for the maintenance and regular cleaning from inside. The Adjustable design of this clipper makes it the most convenient one so you can change the blade level and it setting accordingly. Adjustable Blade Clipper can easily trim your hairs from very close to medium length. The bestselling Adjustable Blade Clipper are Wahl Professional Adjustable Clipper Blade set, Andis Professional Fade Master Hair Adjustable Clipper, Andis Master Adjustable Blade Hair Clipper and Oster Professional Free Rider Adjustable Pivot Hair Clipper.
Cordless Clipper: Cordless Clipper is the professional hair trimming tool that can give the expert, sharp performance with the cordless freedom. Cordless clipper has the superior speed that makes it super easy to use tool which can easily trim the hairs up to smallest level. The battery used in cordless clipper has 90 minutes plus running time on one charge. The bestselling Cordless clippers are Wahl Professional 5-Star Cord/Cordless Magic Clip, Andis Slimline Pro Li T-blade Trimmer, Philips Norelco Hair Clipper, and Sminiker Professional Cordless Rechargeable Hair Clippers.
Detachable Blade Clipper: Detachable Blade Clippers are highly durable Hair cutting tool which are designed to give heavy duty. Detachable blade clipper is much lighter in weight and much smaller in size and can be operate quietly. The detachable ultra edged blades and ceramic blades give sharp result which is required by every expert. Detachable blade clipper can work perfectly on wet hairs and can give fine hair cut. The bestselling brands of Detachable Blade clippers are Oster Classic Detachable Blade Clipper, Andis Ultra Edge Detachable Blade Clipper, Andis  Ultra Edge BGRC Detachable Blade Clipper and Classic 76 Heavy Duty Clipper With Detachable Blade.
Hair Trimmer: Trimmers cut the hairs closer to your skin. T shape blades of trimmers are also  available that can trim the hairs easily around your ear. Trimmer is separately available for men and women. Trimmers are also used to outline and defined the mustache and bread with its fine and sharp result. Trimmers are available with cord or without cord (chargeable). The grooming kits of trimmer is also available that includes different types and shapes of blade so you can change according to your need. The T shape blade, Full-size Trimmer, Nose, Ear and Detail Trimmer, Foil Shaver and different types of Hair Clipper Comb are also available in kits. The best selling brands of Trimmer are Andis Professional T-Outliner Beard/Hair Trimmer, Panasonic ES2113PC Facial Hair Trimmer for Women, Wahl T-Pro Trimmer and Conair Corded Beard and Mustache Trimmer.
Haircutting Shear: Scissor or Shear for hair cutting is the crucial tool to get the hair cut. Good Haircutting Shear or Scissor should be sharp and durable enough to give the smooth cut. The high quality shear and scissor are made of stainless steel so it can give the perfect cutting for longer period of time. The rounded edge of the Scissor protects you from getting any accidental cut on your skin. The bestselling brands of Hair cutting shear or Scissor are Professional Barber/Salon Razor Edge Hair Cutting Scissors, HHR Professional Hairdressing Scissors, Goody Hair Cutting Shears and ELFINA Hair Cutting Shears/Scissors.
Blending/Thinning Shear:
Thinning shear or scissors has the gaps between its blades like the comb and it is used to remove only small amount of hairs in each cut. Thinning Shears or scissors are of two types; either it is one sided or double side thinning shear. Single sided Thinning shears are used on thick or curly hairs for better blending and thinning of hairs where as double sided can only remove small hairs per pass. Thinning Shear is made of stainless steel and the design makes it the most comfortable type of hair cutting tool. The sharp edges can give perfect point cutting and blending. The bestselling brands of blending or thinning shear are HTS Double-Side Polished Chrome Stainless Steel blending shear, Shears Direct Left Hand Cutting and Blending Shears, Dovo Blending/Thinning Shears, and Washi Beauty thinning and blending shear.
Hair Cutting Band or Clip: Hair cutting band is the introduced by many brands to make the hair cutting simple. A lay man who is not an expert of hair cutting, can give the perfect hair cut in minimum time with this hair cutting band or clip. You can trim your bang, layers, and fringes at home easily. It can lock up the hairs in one position so you can securely cut your hair with any trimming or clipping haircutting tool.  These are available in 2 sizes; for bang cutting and for full hair cutting. Hair cutting band or clip is the perfect DIY tool for everyone.
Best brands of hair cutting tools available in Pakistan:
Hair cutting tools are the essential tools that are commonly found at every home. To buy these tools, visit this best Online Shopping Site of Pakistan as we have largest collection and every type of Hair cutting tools in very reasonable prices. We are importing these best hair cutting tools in Pakistan from Amazon online shopping. Order now and enjoy Amazon Online shopping in Pakistan now.